Drought Information
---
THE DROUGHT MONITOR IS A MULTI-AGENCY EFFORT INVOLVING THE NATIONAL WEATHER SERVICE AND NATIONAL CLIMATIC DATA CENTER...THE USDA...STATE AND REGIONAL CENTER CLIMATOLOGISTS AND THE NATIONAL DROUGHT MITIGATION CENTER.
Explanation of the D0-D5 terms...
---
River and Stream Flow Conditions
Here are the current river and stream flow conditions across South Dakota. Click on the image to receive information for the current day. Note: A percentile is a value on a scale of one hundred that indicates the percent of a distribution that is equal to or below it. For example, on the map of daily streamflow conditions a river discharge at the 90th percentile is equal to or greater than 90 percent of the discharge values recorded on this day of the year during all years that measurements have been made. For more information on river and stream stages visit the USGS web site at:
http://water.usgs.gov/waterwatch/
---
Precipitation and Temperature Outlooks
Here are the current one-month and three-month temperature and precipitation outlooks from the Climate Prediction Center. Additional outlooks such as the 6 to 10 day and 8 to 14 day outlooks can be obtained at their web site at:
http://www.cpc.noaa.gov/products/forecasts/
One Month
Three Month
---
Fire Danger Hazards
The Keetch-Byram Drought Index (KBDI) is designed specifically for fire potential assessment. It is a number representing the net effect of evapotranspiration and precipitation in producing cumulative moisture deficiency in deep duff and upper soil layers. It is a continuous index, relating to the flammability of organic material in the ground. Click on the image for the most current information.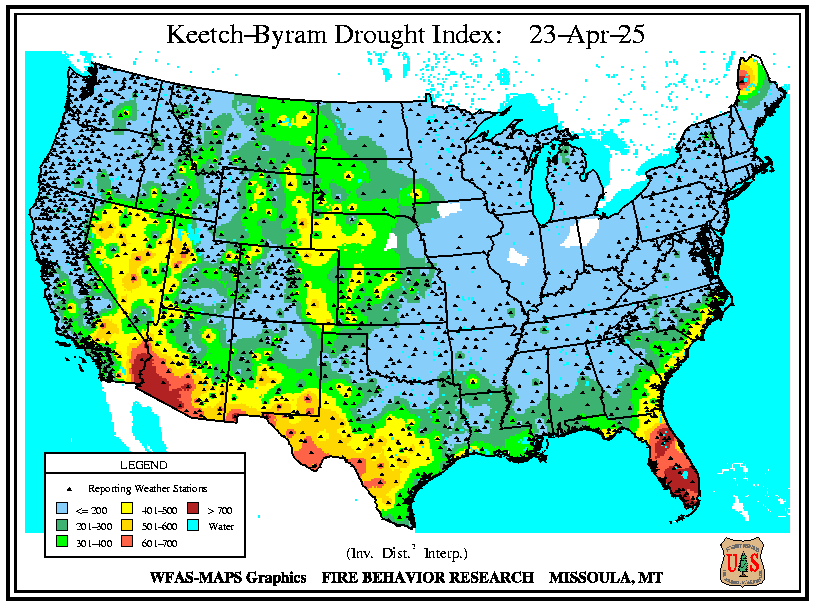 · KBDI = 0 - 200: Soil moisture and large class fuel moistures are high and do not contribute much to fire intensity. Typical of spring dormant season following winter precipitation.
· KBDI = 200 - 400: Typical of late spring, early growing season. Lower litter and duff layers are drying and beginning to contribute to fire intensity.
· KBDI = 400 - 600: Typical of late summer, early fall. Lower litter and duff layers actively contribute to fire intensity and will burn actively.
· KBDI = 600 - 800: Often associated with more severe drought with increased wildfire occurrence. Intense, deep burning fires with significant downwind spotting can be expected. Live fuels can also be expected to burn actively at these levels.
More fire weather information can be found at the following web sites:
Wildland Fire Assessment System
---
Agricultural Impacts