Local Drought Conditions
The maps below are compliments of the U.S. Drought Monitor and they show the current drought conditions across North Dakota, Minnesota, and South Dakota as well as the expected drought conditions for the next month.
The Minnesota DNR has an excellent web page pertaining to drought found here
The categories of drought are defined as follows:
Abnormally Dry (D0) - Going into drought: short-term dryness slowing planting, growth of crops or pastures; fire risk above average. Coming out of drought: some lingering water deficits; pastures or crops not fully recovered.
Moderate Drought (D1) - Some damage to crops, pastures; fire risk high; streams, reservoirs, or wells low, some water shortages developing or imminent, voluntary water use restrictions requested.
Severe Drought (D2) - Crop or pasture losses likely; fire risk very high; water shortages common; water restrictions imposed.
Extreme Drought (D3) - Major crop/pasture losses; extreme fire danger; widespread water shortages or restrictions.
Exceptional Drought (D4) - Exceptional and widespread crop/pasture losses; exceptional fire risk; shortages of water in reservoirs, streams, and wells, creating water emergencies.
Meteorological drought is defined usually on the basis of the degree of dryness (in comparison to some "normal" or average amount) and the duration of the dry period. Definitions of meteorological drought must be considered as region specific since the atmospheric conditions that result in deficiencies of precipitation are highly variable from region to region.`
Hydrological drought is associated with the effects of periods of precipitation (including snowfall) shortfalls on surface or subsurface water supply (i.e., stream-flow, reservoir and lake levels, groundwater). The frequency and severity of hydrological drought is often defined on a watershed or river basin scale.
Agricultural drought links various characteristics of meteorological (or hydrological) drought to agricultural impacts, focusing on precipitation shortages, differences between actual and potential evapotranspiration, soil water deficits, reduced groundwater or reservoir levels, and so forth. Plant water demand depends on prevailing weather conditions, biological characteristics of the specific plant, its stage of growth, and the physical and biological properties of the soil.
Socioeconomic definitions of drought associate the supply and demand of some economic good with elements of meteorological, hydrological, and agricultural drought. It differs from the aforementioned types of drought because its occurrence depends on the time and space processes of supply and demand to identify or classify droughts. The supply of many economic goods, such as water, forage, food grains, fish, and hydroelectric power, depends on weather. Because of the natural variability of climate, water supply is ample in some years but unable to meet human and environmental needs in other years. Socioeconomic drought occurs when the demand for an economic good exceeds supply as a result of a weather-related shortfall in water supply.
Drought Monitor (United States, North American) and U. S. Drought Outlook

The U.S. Drought Monitor is a weekly collaborative effort between a number of federal agencies including NOAA/NWS, U.S. Department of Agriculture and the National Drought Mitigation Center. The data cutoff is Tuesdays at 6 AM Central Standard Time and the product is updated weekly on Thursdays at 7:30 AM Central Time. For those needing to look at past U.S. Drought Monitors an archive is available back to May 20, 1999. This information can be found at the following link.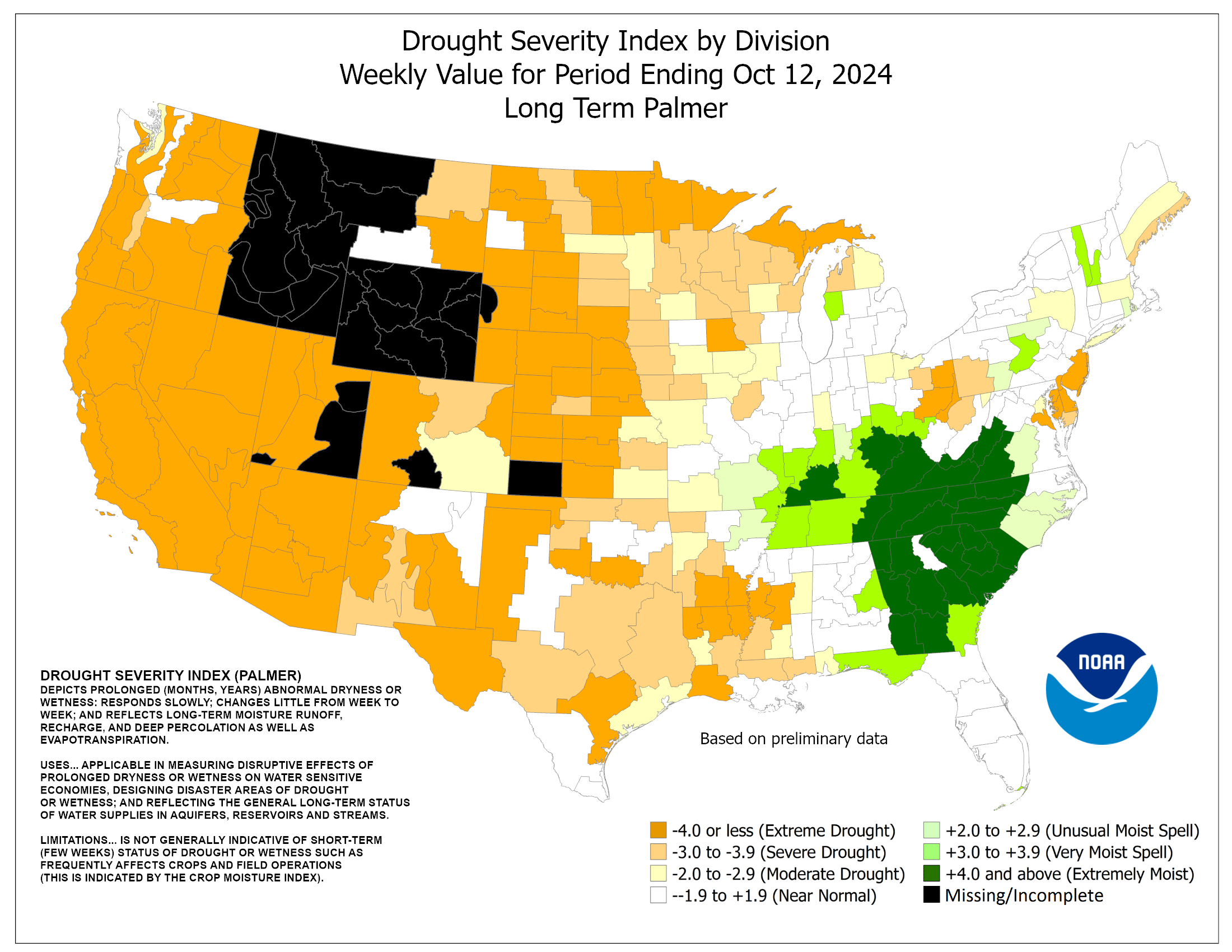 Soil Moisture Anomalies from the Climate Prediction Center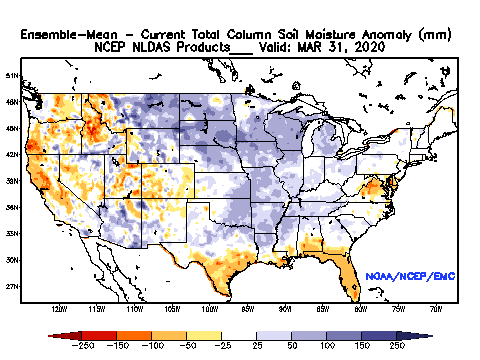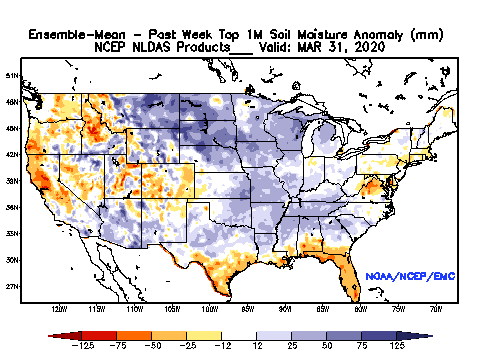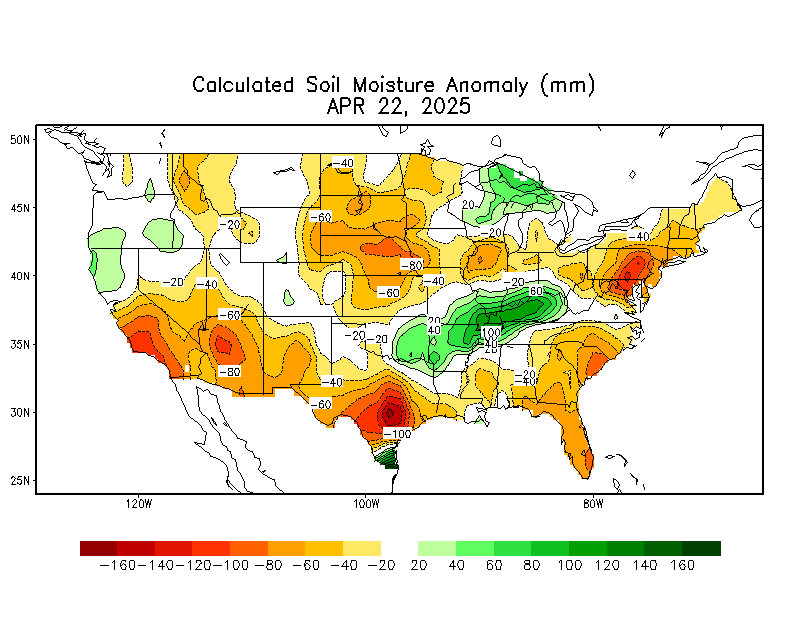 USGS Hydrographs
North Dakota Minnesota Red River Basin

---
Fire Weather / Risk Information
Minnesota DNR Fire Information North Dakota Fire Information NWS Grand Forks Fire Weather Page
---
Base Climate Information - Precipitation and Temperature from partner agencies
High Plains Regional Climate Center - Lincoln Nebraska

---

Midwest Regional Climate Center - Champaign, Illinois
Precipitation Departure for the current month / Precipitation Departure for the past 30 days

Ground Water Impacts- Courtesy of the US Geologic Survey

The USGS maintains a network of wells to monitor the effects of droughts and other climate variability on ground-water levels. The network consists of a national network of about 140 wells monitored as part of the Ground-Water Resources Program, supplemented by wells in some States monitored as part of the Cooperative Water Program. For a list of network wells, click on a State on the image below.

USGS Ground-Water Climate Response Network
The links below are from the NOAA's Climate Prediction Center. They are used as input to the drought monitoring and prediction.