NOAA's Drought Information Center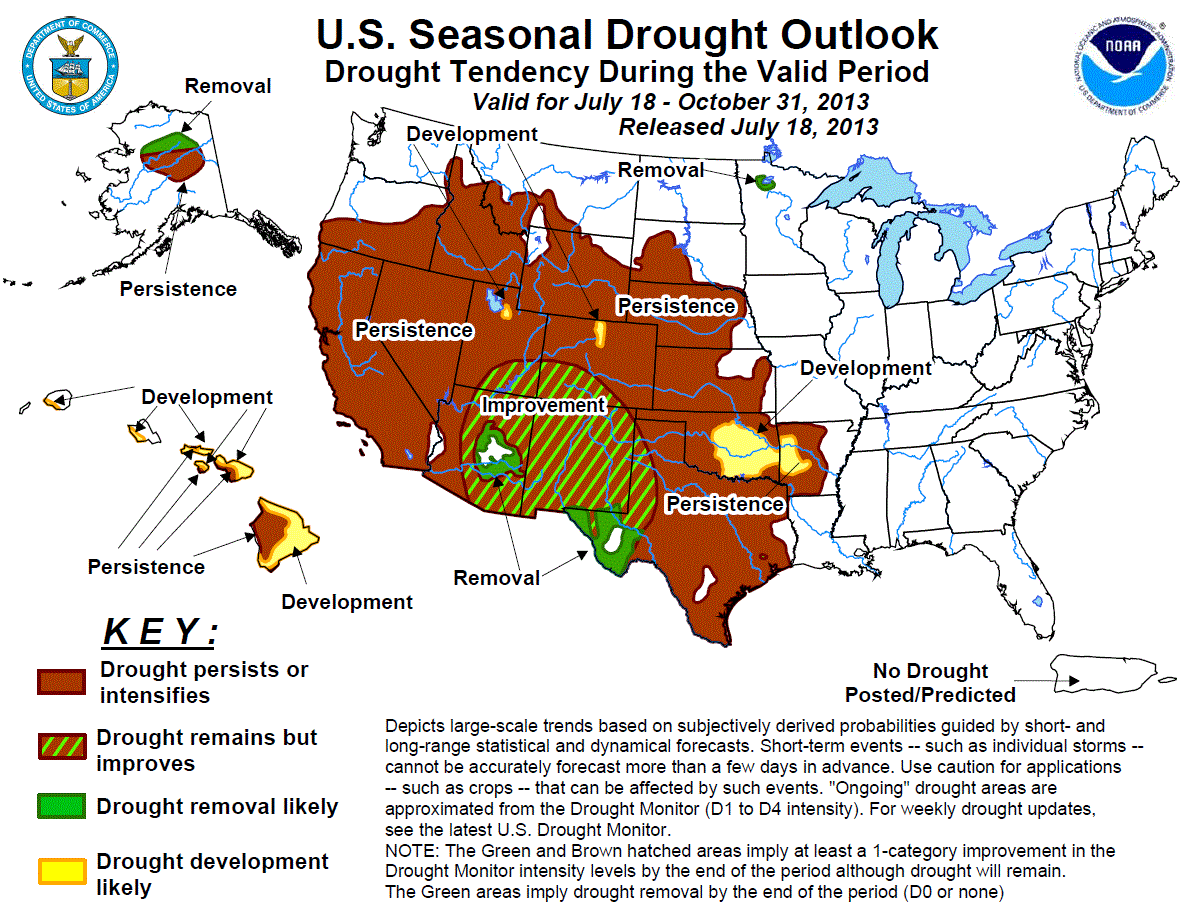 (click image to enlarge)
---
Reservoirs are very important to the Goodland Hydrologic Service Area (HSA), and they are monitored daily.
Click here for Current Reservoir Data, including large lakes in the Goodland HSA - (Courtesy of the USBR)
---
Interaction is also required between the NWS and the USGS. NWS river forecasts are based, to a great extent, on data from USGS streamgaging stations. The USGS operates most of its streamgages on a cooperative basis with other federal, state, and local agencies that fund individual gaging stations for agency-specific projects or regulatory needs. Reductions in streamgaging program funds, due to budget reductions for the USGS or for cooperating agencies, usually require that some stations be discontinued.
For more information, see the USGS fact sheets, Stream Gaging and Flood Forecasting - a partnership of the U.S. Geological Survey and the NWS, and Streamflow Information for the Nation.
---
Above are examples of Time Series at Forecast Points in the Goodland HSA. The Time Series Display Window allows the forecaster to view time series graphs for things such as River Stage (HG) and Hourly Precipitation (PC) at a streamgaging station.
This was created from an application called HYDROVIEW in WHFS. WHFS stands for WFO Hydrologic Forecast System, and it has many features which provides a tool for all WFO operational staff to closely monitor hydrological situations, and to issue products for flash floods and mainstem river flood episodes. WHFS capabilities have changed with the latest AWIPS build, especially with the HydroView application and viewing Time Series (shown above).
For more hydrologic information pertaining to the High Plains, click HERE to look at the Missouri Basin River Forecast Center (MBRFC) Home Page. During high flows across the region, please take some time to look at our Daily Hydrologic Activities Discussion and River Statements for Kansas and Nebraska.