SKYWARN Spotter Training...
The effects of severe weather are felt every year by many Americans. To obtain critical weather information, NOAA's National Weather Service (NWS), part of the U.S. Department of Commerce, established SKYWARN® with partner organizations. SKYWARN® is a volunteer program with nearly 290,000 trained severe weather spotters. These volunteers help keep their local communities safe by providing timely and accurate reports of severe weather to the National Weather Service. Spotters generally report significant events such as damaging winds, heavy rain, tornadic activity, ice and snow, along with other events that have an impact on the forecast or the safety of the community. Additional information can be found on the national SKYWARN® page.
There are two ways you can become a trained SKYWARN® spotter for NWS Jackson, KY, either by the preferred method of attending a class in person or by taking a series of online training modules.
Training Method #1: NWS Jackson, KY will typically hold several classes across eastern Kentucky throughout the year. A schedule of upcoming classes can be found below. Unless otherwise stated, these classes are open to the public, are free of charge, and require no registration.
Training Method #2: Prospective weather spotters that cannot make it to an in-person spotter class can take a series of online training modules. These modules cover the basics of being a SKYWARN Spotter and provide baseline training for all spotters by covering the procedures for spotting (including communication and spotter report criteria) and safety considerations for all hazards. You can access these courses at https://www.meted.ucar.edu/training_course.php?id=23. Additional locally prepared training may be required.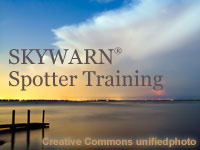 The following resources are also available to assist weather spotters who have already attended a SKYWARN® Weather Spotter class:
For further information please contact our Warning Coordination Meteorologist, or give us a call at 606-666-2560 ext. 726.