Critical Fire Weather Conditions Today
Conditions Favorable for Wildfire Growth
Strong southerly winds will continue over western and north central Nebraska today. This is due to an area of strong low pressure which continues to deepen along the Front Range of the Rockies. A Wind Advisory is also posted for all of western and north central Nebraska through 700 PM CDT.

A Red Flag Warning is in effect from 1000 AM CDT through 700 PM CDT, for parts of western and north central Nebraska. Dry conditions will persist today over north central into parts of southwestern Nebraska - especially along and east of Highway 83 from North Platte to Valentine. Minimum relative humidities are forecast to drop into the 15 to 20 percent range this afternoon. A lack of moisture over the past several weeks has led to an ample supply of dry fuels. This combination of dry fuels, low relative humidities and gusty south winds with frequent gusts above 25 MPH - will continue to create critical fire weather conditions from late this morning into early this evening.
Several large wildfires occurred yesterday across west central Nebraska - including the Logan County wildfire near Stapleton which engulfed a soybean field, and became uncontainable. Other fires occurred near Taylor and north of Merritt Reservoir. Another smaller fire was noted east of Madrid and also by Callaway yesterday.

Fire fighting planes at Lee Bird Field in North Platte Wednesday Morning October 5th, 2011
Weather Map valid 1 PM CDT This Afternoon
Weather Map valid 7 PM CDT This Evening
High Temperatures This Afternoon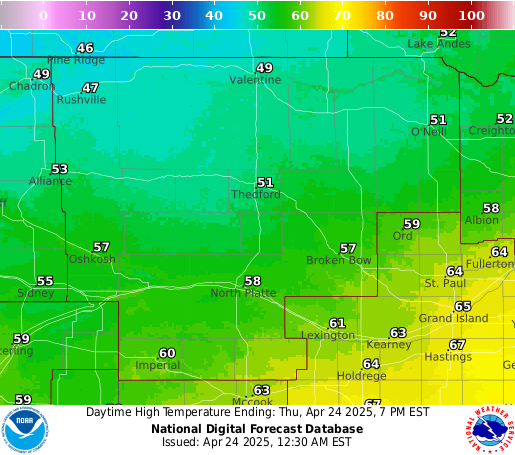 Minimum Relative Humidity This Afternoon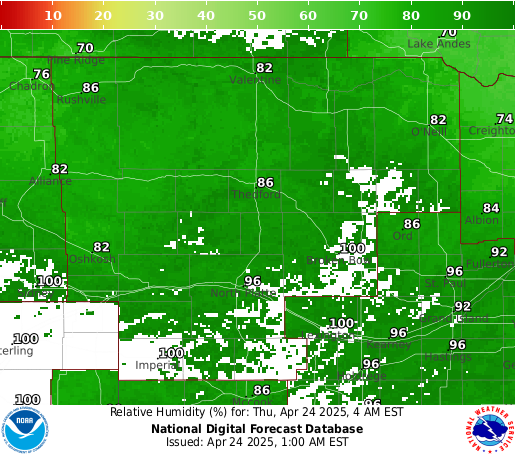 Peak Wind Gusts This Afternoon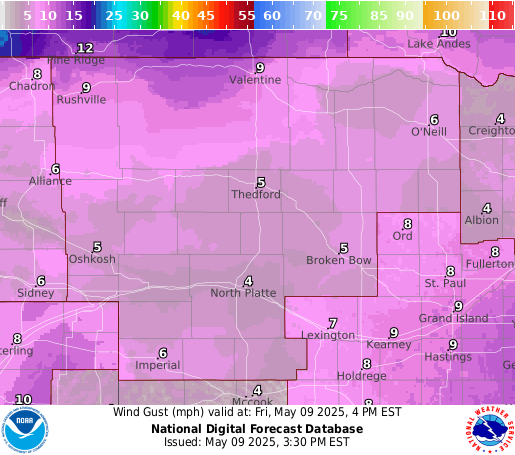 For latest fire weather forecasts click here
Page composition by Steve Carmel