July 19, 2012
Late on the afternoon of July 19, 2012 severe thunderstorms developed along a weak cool front in the Bluegrass region and in southern Indiana, and caused widespread wind damage as they rolled southeast through central Kentucky during the evening hours.
The first radar loop runs from roughly 4pm through 8pm, which covers the strong storms that affected southern Indiana, locations in and near the Louisville Metro, and the Bluegrass region.
This loop from 8 PM to 11 PM EDT shows the strong storms pushing farther southeast, causing damage all the way to the Tennessee line.
Wind gusts of 60-64 mph were measured at a few locations, but locally higher gusts likely occurred between observing sites.
The SPC map shows that most of the nation's severe weather on Thursday happened in central and eastern Kentucky.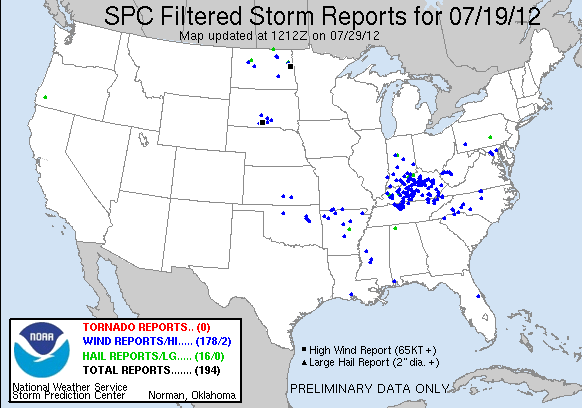 View a list of damage reports in southern Indiana and central Kentucky here.
Many thanks to everyone who sent us their photos! (click on an image to see a larger version)
Mammatus clouds over Dubois, Indiana. Shannelle Kline
Mammatus clouds in Crawford County. Wade Bell
A roll cloud as seen from near Oxmoor Mall in suburban Louisville. Barry Sampson
The roll cloud advancing on Pewee Valley. Tom Reaugh
Shelbyville, KY looking north from Exit 35 along I-64 around 7:35pm. John Merchant
Shelbyville, KY looking north from Exit 35 along I-64 around 7:35pm. John Merchant
This is how the storm looked as it moved over eastern Shelby County.
Wind damage near Priceville in Hart County. Nathan Webb
Possibly a wall cloud, near Brownsville, KY. NWS Doppler radar was showing rotation in this area at the time, and a Tornado Warning was issued. John Betner
A shelf cloud, bringing strong gusty winds, approaches Richmond. Chris Leftwich
The storm enters Richmond. Tony Caudill
Lightning striking west of Eastern Kentucky University in Richmond around 8:45pm. Note that the radio tower on the left of the photo is not being struck. Anywhere outside during a lightning storm is dangerous -- not just the highest point or tallest structure! David Pence
Tree damage in Audubon Park. LG&E