2012 Swim Season: Great Lakes Current Incident Summary
Great Lakes Current Incident Database (GLCID)
An archive of incidents contributed to a combination of high waves and dangerous currents (rip currents, structural currents, outlet currents, and channel currents) on the Great Lakes.
Overview
This year was slightly above average for Great Lakes current-related incidents when compared to the average of 12 current related incidents per year (2002-2011, Great Lakes Current Incident Database). As is often the case, Lake Michigan was responsible for a majority of the incidents, with its eastern shores favorably aligned to the prevailing wind flow and its popularity with tourists. In the Great Lakes, channel current incidents occur on average once per year. This year, there were no channel current incidents reported.
Current-related incidents across the Great Lakes, 2002-2012. Data from the GLCID, 2012.


2012 current related incidents, sorted by lake. Data is from the GLCID, 2012.
About The Victims
As is typical of current-related incidents on the ocean (and of the Great Lakes), most of the victims were male. Out of the 67 total incidents in the database for 2012, 25 of them were male and 19 were female. For 23 of the incidents, the gender of the victim was unknown. The average age of the victims this year was 22 years old, which is also common in current related incidents. Approximately 60% of the victims this year were locals to the beach at which they drowned or were rescued at. In the GLCID, local is defined as living within 30 miles of the beach.

Conditions Observed During 2012 Current-Related Incidents
Wind Speeds
The most commonly observed wind speed classification during the 2012 incidents was 20 to 30 mph. Strong southerly winds commonly lead to beach problems, as they typically bring warmer temperatures and pleasant weather in combination with moderate to high waves. In addition, a large number of beaches on Lake Michigan's eastern coast have break walls that extend east to west into the lake.

Wind speeds observed during the current related incidents of 2012. Most incidents occurred when winds were in the 20 to 30 mph range. Data from the GLCID, 2012.
Wave Heights
On the ocean and in the Great Lakes, higher waves lead to dangerous current development. This can also been seen in the 2012 GLCID wave data. Most incidents this year occurred when waves were in the 4 to 7 ft. range. There were 9 incidents that occurred when waves were 2 feet or less, and 7 of those incidents were outlet currents.

Wave heights observed during current-related incidents are shown above. A majority of the incidents occurred when wave heights were greater than 2 feet. Data from the GLCID, 2012.
Wave Periods
Most of the incidents occurred when waves had a period between 3 and 5 seconds. This is one area where rip currents on the ocean are different from rip currents on the Great Lakes. Typically, rip currents in the ocean occur during longer wave periods, which is actually defined as longer than 9 seconds. Only 3 incidents occurred when the wave period reached close to 'long period' criteria, at 6 to 8 seconds. This generally shorter wave period (mostly 3 to 5 seconds) results in an additional hazard to the rip currents-as most people cannot recover while fighting a current and these rapidly incoming high waves.
Wave periods observed during current-related Incidents in 2012. Most of the incidents occurred with wave periods in the 3 to 5 second ranges.
Data from the GLCID, 2012.
To learn more about what weather and wave conditions lead to rip current development, see our webpage: Rip Current Development
Most Hazardous Day of 2012:

August 5, 2012: 6 Current Related Fatalities, 7 Current Related Rescues (13 total incidents)

On this particular day, a low pressure system moving from northern Ontario into Hudson Bay brought two cold fronts across the Great Lakes. In addition, high pressure approaching from the plains extended a ridge across the region. This brought strong southerly, westerly, and northwesterly winds of 15 to 25 mph to the Great Lakes region throughout the day. These winds generated wave heights of 3 to 7 feet. NWS offices around the Great Lakes know this pattern is hazardous for beach goers, so areas along the shoreline had a moderate to high risk of dangerous currents and waves in effect, and general statements about the hazards associated with high surf.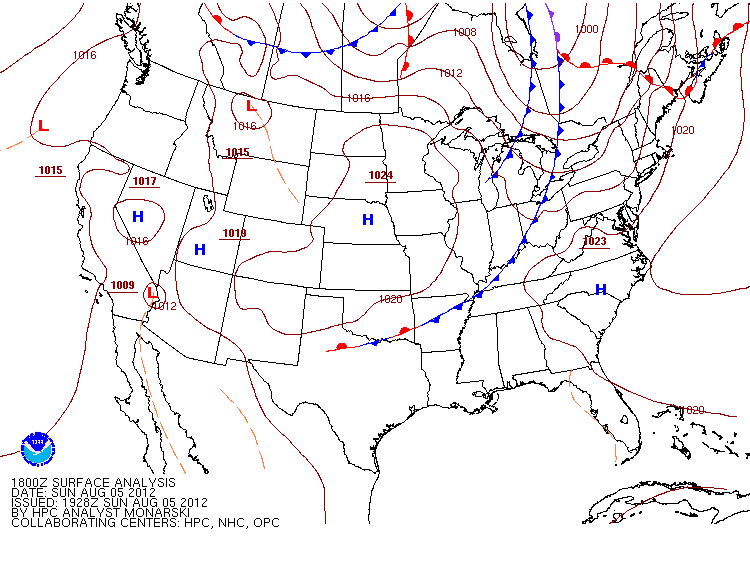 Weather Map at 2:00 PM EDT from the Weather Prediction Center on August 5, 2012.
By the end of the day, there was a total of 13 current-related incidents. There were two incidents that occurred on Lake Ontario around 8:30 am at a beach where there was a breakwall and complex sandbar features. It is unknown whether the victims were swimming at the breakwall or not, however the wind/wave direction was directly onshore (out of the south, ahead of the front).
Beach where the two men drowned from a current in Scarborough, Canada on Lake Ontario.
Image from Googlemaps, 2012.
Later that morning and into the early afternoon time frame, winds on southern Lake Michigan were out of the northwest at 15 to 25 mph, with waves in the 4 to 7 ft range. This set the stage for two current-related drownings and two rescues along the southeastern shores of the Lake, when a man noticed two children in distress from the current and jumped in to rescue them. The children survived, but the man did not. For this particular instance, it was not known whether the victims were caught in the river outlet at the beach or a rip current that developed within the sandbars