Join CoCoRaHS!
The National Weather Service in Bismarck has partnered with the Community Collaborative Rain, Hail, and Snow Network (CoCoRaHS) and together, we are looking for volunteer weather observers in North Dakota.
What is CoCoRaHS? CoCoRaHS is a unique, non-profit, community-based network of volunteers of all ages and backgrounds working together to measure and report precipitation amounts (rain, hail, and snow). By using low-cost measurement tools, stressing training and education, and utilizing an interactive website (http://www.cocorahs.org), the goal is to provide the highest quality precipitation data for natural resource, education, and research applications.
What are the benefits of being a CoCoRaHS observer? Whether you are reporting from your home, school, ranch, farm, or business; your daily precipitation data will keep you connected with the weather around you. Observing precipitation is a fun and easy hands-on activity that applies science to the real world. Your information will fill a piece of the puzzle that affects many in your part of North Dakota. Your information will help hydrologists make better river forecasts, assist researchers with assessing drought intensity, and help the National Weather Service with severe weather warnings.
What is the level of commitment? Ideally, we would like an observation every morning (even zeros). However, we know you are busy and it is ok if an observation is not provided every day. If a few days are missed and you are away on vacation, there is a multi-day accumulation feature on the website that allows you to enter the total amount of precipitation in your gauge for the days that were missed.

Whom should I contact? If you, your school, and/or your business are interested in being a part of this community of volunteer observers, please email Tony.Merriman@noaa.gov for more information. The first 30 observers to sign up will receive a free rain gauge!
Current Active Stations in North Dakota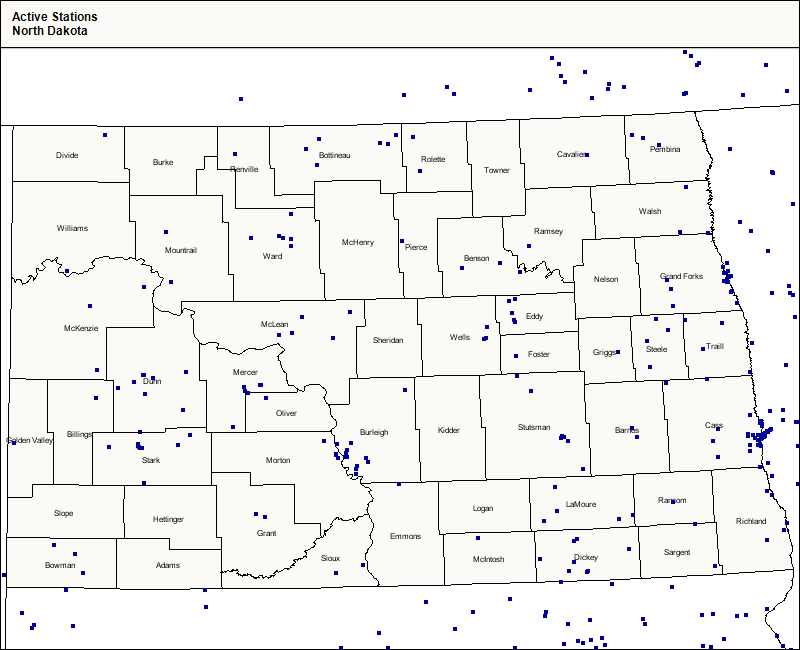 Return to News Archive