March 2010 Weather Highlights in Central and Southeast Illinois
After the cooler than normal winter season, temperatures finally started to recover in March. Average temperatures during the month were 1 to 3 degrees above normal in central and southeast Illinois. The first surge of warm weather began on the 7th, and by the 10th, highs in the lower 70s were common south of I-72. Additional mild periods were observed from the 17-19th, 21-24th, and at the end of the month.
Precipitation averaged below normal. No severe weather occurred, although several places reported pea size hail on the 7th and 11th.
As astronomical spring was approaching, winter made one last appearance. Snowfall of 1 to 3 inches was common northwest of the Illinois River on the 20th, with the highest total of 3.9 inches at Altona, in northern Knox County. This particular storm system deposited snowfall in a large area from Oklahoma to Michigan, with the heaviest totals in southwest Missouri where the snow was a foot deep in some areas.
River levels on the Illinois River began rising shortly before mid-month, as runoff from snow melt upstream worked its way down the river basin. River levels rose to over 19 feet at Havana and 20 feet at Beardstown by the 21st. While river stages fell the remainder of the month, they remained above flood stage. Parts of the Embarras, Wabash, and Little Wabash Rivers also flooded late in the month, after rainfall of 1 to 2 inches fell from the 25-26th.
By the end of the month, strong southerly winds brought temperatures into the 80's in a few areas, for the first time in several months.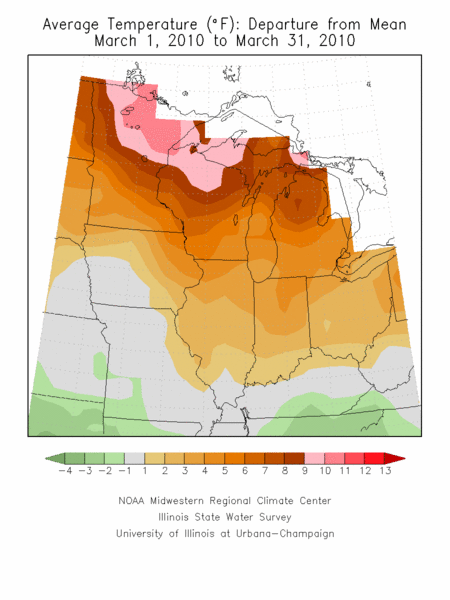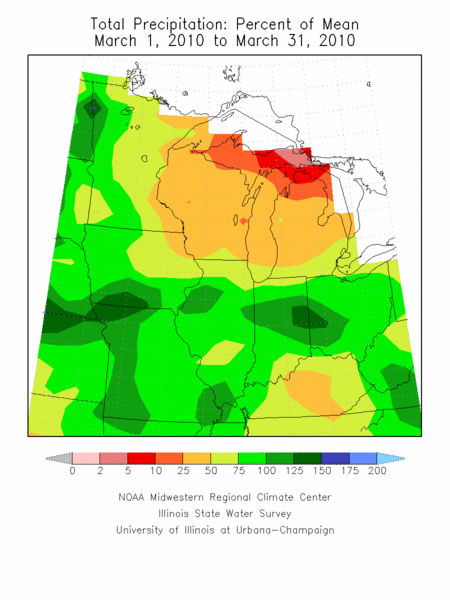 Return to Latest News