Strong Winds and Much Colder Weather for Central Illinois
LOW PRESSURE OVER NORTHWEST ILLINOIS EARLY THIS MORNING WILL RAPIDLY INTENSIFY AS IT MOVES ACROSS THE LOWER GREAT LAKES
OVER THE NEXT 12 TO 18 HOURS. THIS INTENSE STORM SYSTEM WILL BRING STRONG WINDS TO CENTRAL AND SOUTHEAST ILLINOIS TODAY AND THIS EVENING. WIND GUSTS TODAY INTO THIS EVENING WILL FREQUENTLY REACH AROUND 45 MPH...WITH A FEW LOCATIONS SEEING GUSTS AROUND 50 MPH AT TIMES. THE STRONG WINDS WILL USHER IN MUCH COLDER AIR TO THE REGION TODAY WITH MOST AREAS EXPERIENCING THEIR HIGH TEMPERATURES THIS MORNING...WITH STEADY OR SLOWLY FALLING TEMPERATURES EXPECTED THE REMAINDER OF THE DAY. TONIGHT'S LOW TEMPERATURES WILL FALL TO THE MIDDLE TEENS FAR NORTHWEST TO THE MIDDLE 20S SOUTHEAST. ON MONDAY...GUSTY NORTHWEST WINDS WILL PREVAIL ACROSS THE MIDWEST BRINGING BONE CHILLING COLD WEATHER AS AFTERNOON TEMPERATURES STRUGGLE THROUGH THE 20S.
BELOW IS A GRAPHICAL REPRESENTATION OF WHERE THE WARNINGS AND ADVISORIES ARE CURRENTLY IN EFFECT ACROSS THE NATION. TO GET A BETTER FEEL FOR THE WEATHER IN YOUR AREA...VISIT THE FOLLOWING WEB SITE AT http://www.spc.noaa.gov/products/wwa/. CLICK ON THE AREA OF INTEREST TO VIEW A MORE DETAILED FORECAST FOR YOUR LOCAL AREA.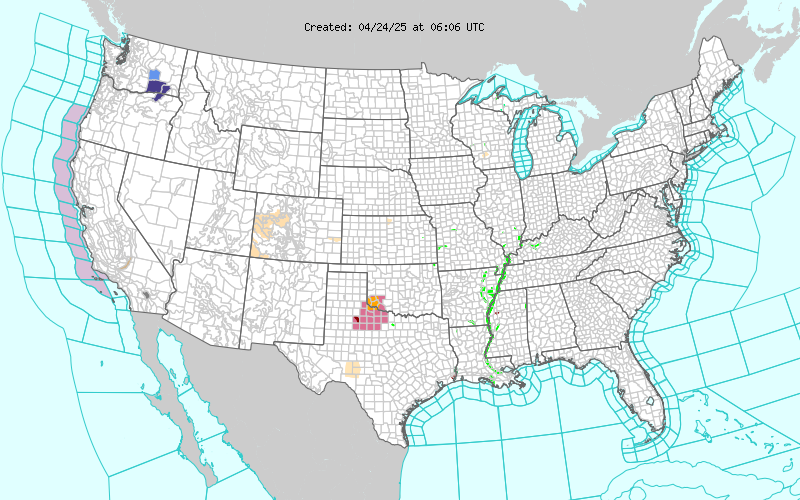 Return to News Archive