(Additional graphics about the drought are available on our Drought page)
Severe to exceptional drought conditions existed in nearly 90% of the state according to this week's U.S. Drought Monitor with slightly more than half of the state in extreme drought conditions or worse. Only about 10% of Indiana had abnormally dry to moderate drought conditions. The dry conditions have caused nearly all counties in Indiana to issue burn bans.
Drought conditions in portions of central and southern Indiana were worse than the Dust Bowl Days of the 1930s. From June 1–July 17 much of central Indiana had received less rainfall and been nearly as hot as the summer of 1936. Several areas of northern and east central Indiana received one-half to nearly 4 inches of rainfall from July 17-July 19 while portions of central and southern Indiana remained dry or nearly dry.
Indiana will experience a small break in the hot weather today before another heat begins on Saturday. Recent rainfall has tempered current drought conditions especially in portions of northern and east central Indiana. This rainfall will not break the drought. What is needed to end the drought is a return to regular weekly rainfalls averaging about an inch. Instead, hot and mostly dry conditions will return the week of July 22.
The effects of the drought were having a large impact on Indiana agriculture. Late season crops, like corn and soybeans, may see their worst yields since the Great Drought of 1988...possibly even lower. Wildfires continue to be a daily threat which is rarely seen in Indiana in July. The Indiana Department of Natural Resources issued a warning to boaters about low lake levels at the peak of boating season for some area lakes. The City of Indianapolis and several nearby metro communities have issued mandatory outdoor water restrictions. The State of Indiana issue the first ever water shortage warning asking for a voluntary reduction in water use. Local wells have gone dry in some central Indiana areas.

Click here for regional drought conditions.

Sign at Vincennes, IN (click to enlarge)
Below is a table of rain totals thus far this year and their difference from average for central Indiana locations.
Location

Year-to-Date Precipitation
(through July 16)

Departure from Average
Indianapolis
15.15
-9.04
Lafayette
11.57 **

-8.76
Muncie
15.11
-7.45
Terre Haute
12.91 **
-12.43
Bloomington
12.84 **
-14.73
Shelbyville
13.10
-11.51

Indy — Eagle Creek
13.39
-10.25
** — Indicates precipitation not availabe on some days since January 1.
Indiana and nearby areas' Percent of Normal for year-to-date precipitation:
---
Indiana Percent of Normal Precipitation for the past 90 days (courtesy of the Indiana State Climatologist):
---
Plot of Year-to-Date Temperatures and Precipitation for Indianapolis (Other cities are available), and Plot of Snow Year (July-June) for Indianapolis. Click an image to enlarge.
---
Streamflow for Rivers Across Indiana (all streamflow images from USGS)
KEY:
High
>90th Percentile
76th-90th Percentile (Above)
25th-75th Percentile (Normal)
10th-24th Percentile (Below)
<10th Percentile
Low
Not Ranked
---
Latest Drought Coverage for Indiana:
---
Latest 5-Day Total Precipitation Forecast (updated daily at 8 p.m. EDT) from HPC:
---
Latest 8-14 Day Precipitation Outlook from the Climate Prediction Center: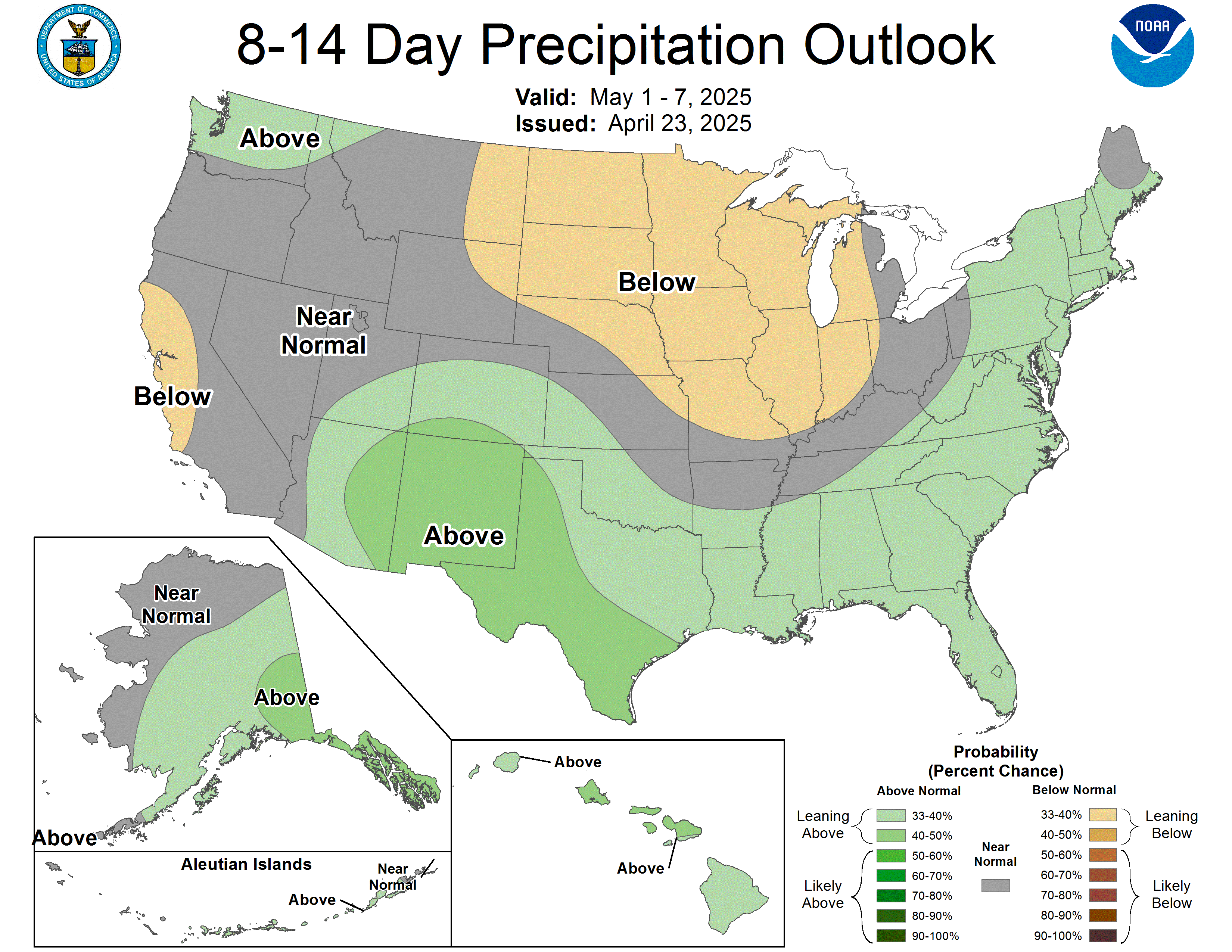 Latest One Month Precipitation Outlook from the Climate Prediction Center: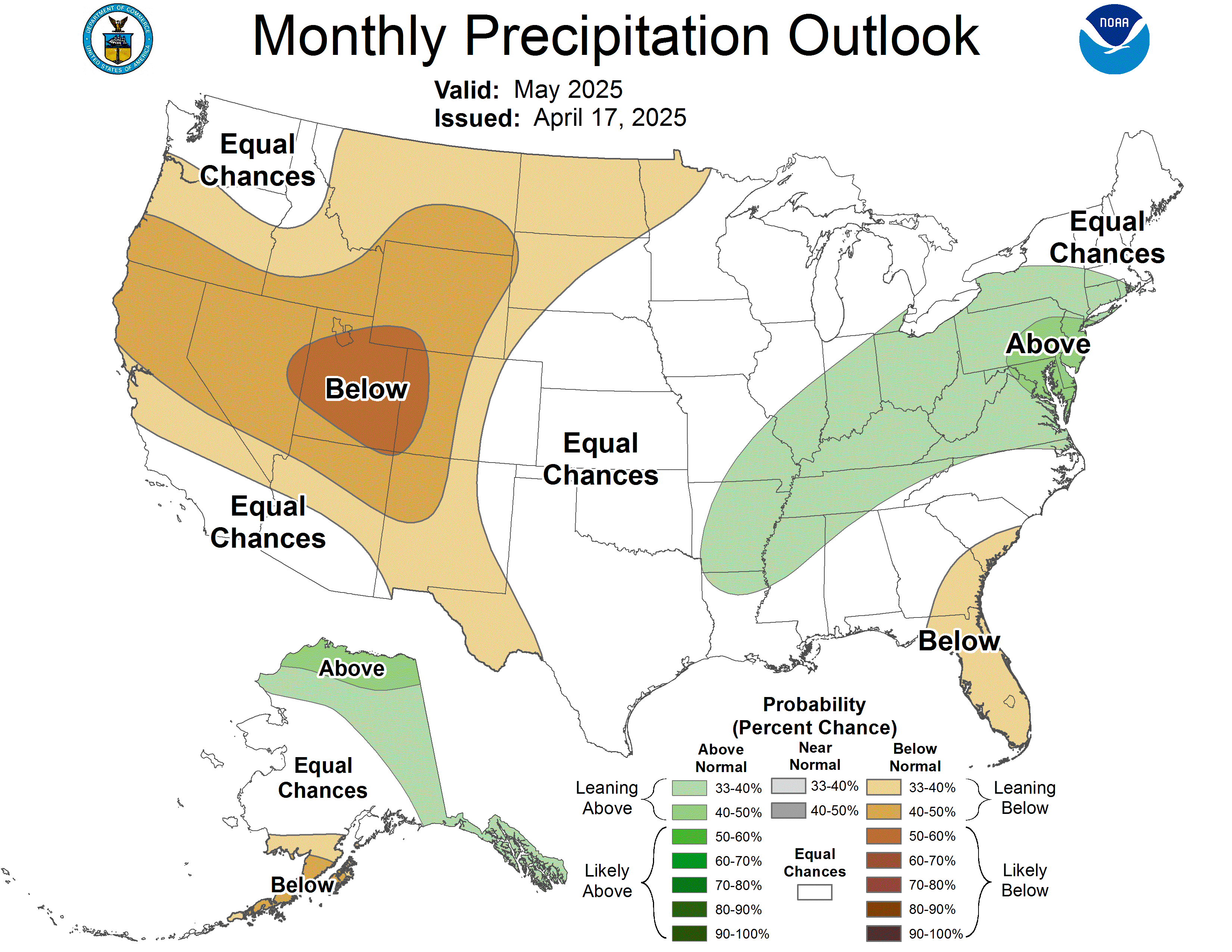 Latest Three-Month Precipitation Outlook from the Climate Prediction Center: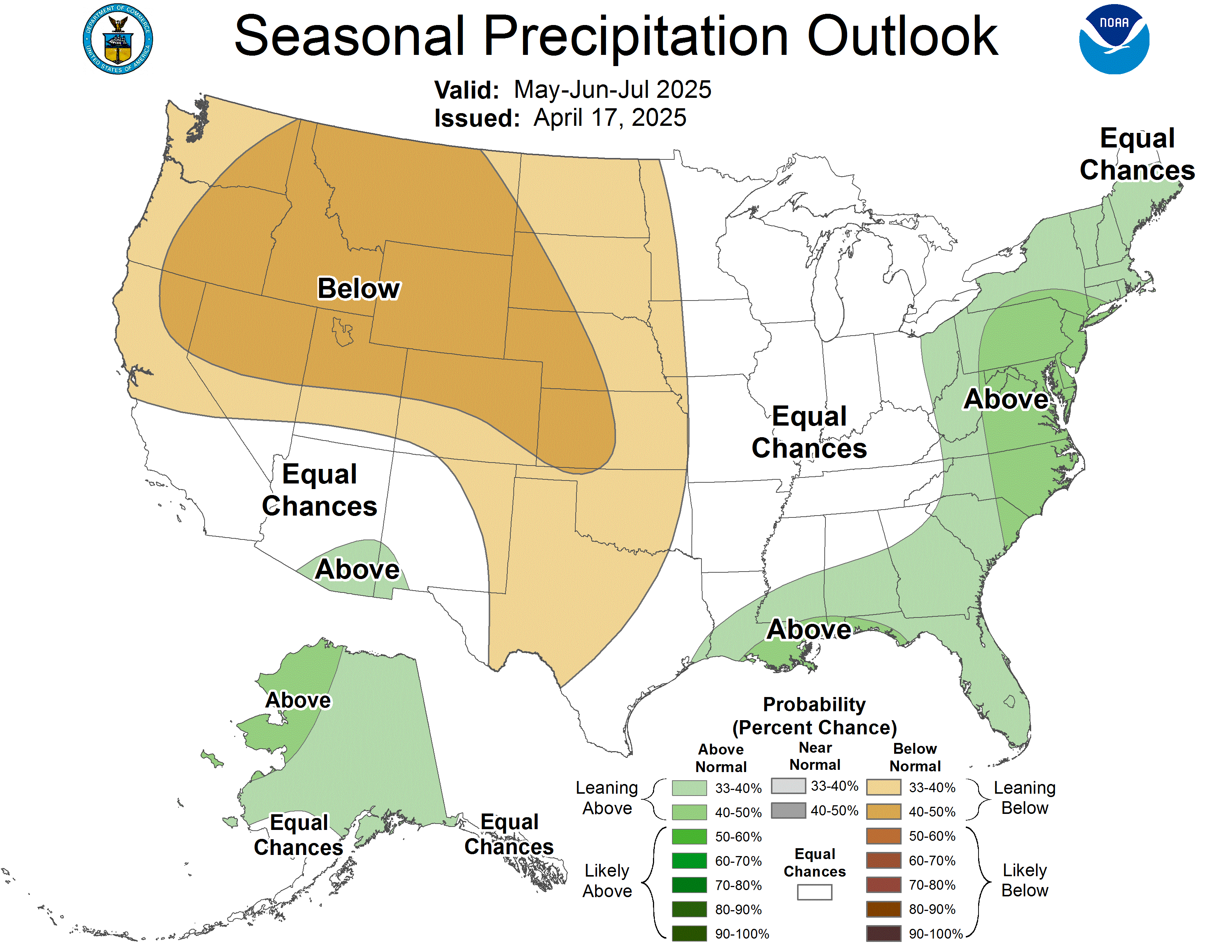 Return to Latest News