Drought conditions slowly improved in much of Indiana according to this week's U.S. Drought Monitor. About one-third of Indiana was in extreme to exceptional drought conditions compared to nearly 70% on July 31. The worst conditions in Indiana were located south of a line from Clinton in Vermillion County to Richmond in Wayne County.
Improvement occurred on the 16th and 20th especially in the extreme and exceptional drought designated areas. Observers in Warren, Vigo, Clay, Owen, Lawrence, Hendricks, Parke, Greene, Fountain, Marion, Montgomery and Monroe Counties reported 2 to slightly over 5 inches of rainfall on the 16th and an inch of rain in portions of Boone County on the 20th. See rainfall maps below.
Specifically the Indianapolis airport has measured 5.04 inches of rain in the two-week period from August 4th-17th. August 2012 will be the wettest August at the airport in 19 years. This follows the driest ever April 1st-July 31st period when only 6.98 inches fell at the airport. Widespread rainfall of about an inch every 10 days continuing through October is necessary to end the Drought of 2012 in Indiana.

August 16 Rains (click to enlarge)

August Rains through the 22nd (click to enlarge)
The effects of the drought were having a large impact on Indiana agriculture. Nearly all the pasture land was barren in July. Late season crops, such as corn and soybeans, may see their worst yields since the Great Drought of 1988 - possibly even lower. Rains during August have helped pastures, hay fields and later crops like soybeans.
Wildfires continue to be a threat. Hundreds of wild fires broke out during July. At least 50 of these fires were started by lightning ... unheard of in Indiana during July. Only a period of 2 to 3 days of warm and very dry weather is necessary for fire danger to increase markedly. Wildfire Potential outlooks are available for the next week as well as the upcoming season.

Mandatory outdoor water restrictions remain in place for much of the Indianapolis area. The State of Indiana continued its first ever water shortage warning requesting for a voluntary reduction in water use. Home owner wells have gone dry in various areas of the state. With recent rains, stream levels have shown modest improvement since the end of July.

Click here for regional drought conditions.

Vincennes, IN area July 2012 (click to enlarge)
Indiana and nearby areas' Departure from Normal for year-to-date precipitation:
Below is a table of rain totals thus far this year and their difference from average for central Indiana locations.
Location

Year-to-Date Precipitation
(through August 22)

Departure from Average
Indianapolis
21.02
- 7.41
Lafayette
14.92 **

- 9.64
Muncie
18.52
- 8.41
Terre Haute
16.23 **
-13.74
Bloomington
15.77 **
-16.27
Shelbyville
16.19
-12.90

Indy — Eagle Creek
20.17
- 7.44
** — Indicates precipitation not availabe on some days since January 1.
Indiana and nearby areas' Percent of Normal for year-to-date precipitation:
---
Indiana Percent of Normal Precipitation for the past 90 days (courtesy of the Indiana State Climatologist):
---
Plot of Year-to-Date Temperatures and Precipitation for Indianapolis (Other cities are available), and Plot of Snow Year (July-June) for Indianapolis. Click an image to enlarge.
---
Streamflow for Rivers Across Indiana (all streamflow images from USGS)
KEY:
High
>90th Percentile
76th-90th Percentile (Above)
25th-75th Percentile (Normal)
10th-24th Percentile (Below)
<10th Percentile
Low
Not Ranked
---
Latest Drought Coverage for Indiana:
---
Latest 5-Day Total Precipitation Forecast (updated daily at 8 p.m. EDT) from HPC:
---
Latest 8-14 Day Precipitation Outlook from the Climate Prediction Center: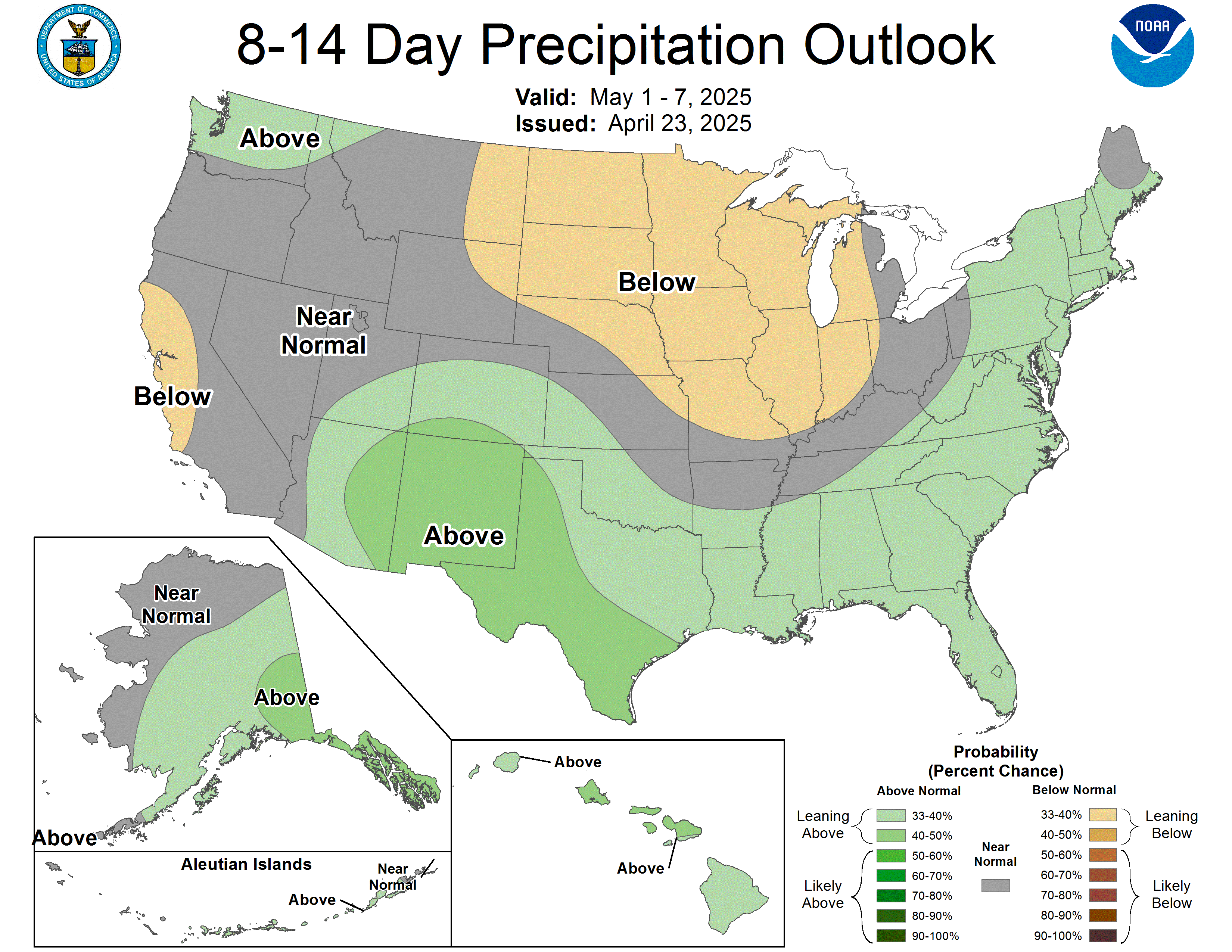 Latest One Month Precipitation Outlook from the Climate Prediction Center: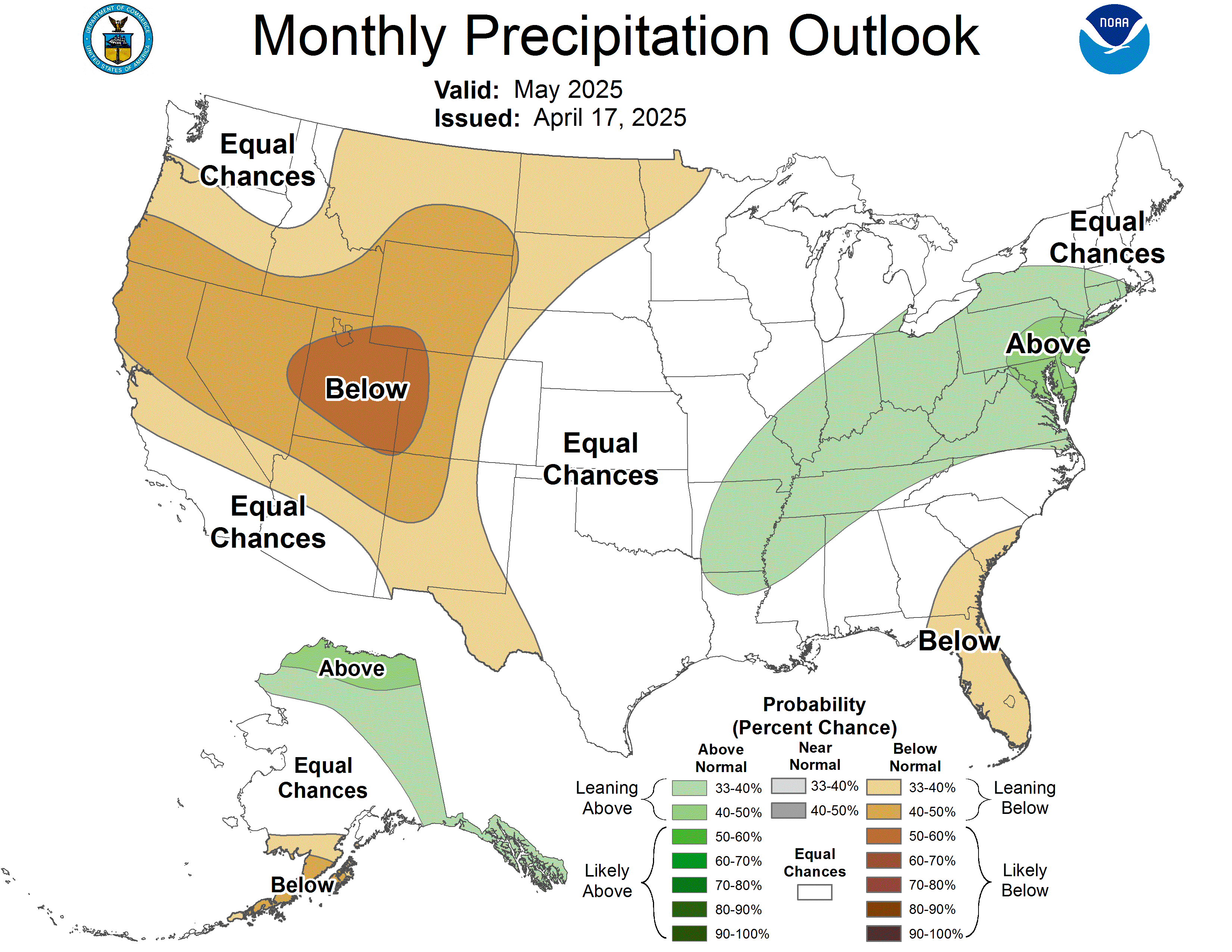 Latest Three-Month Precipitation Outlook from the Climate Prediction Center: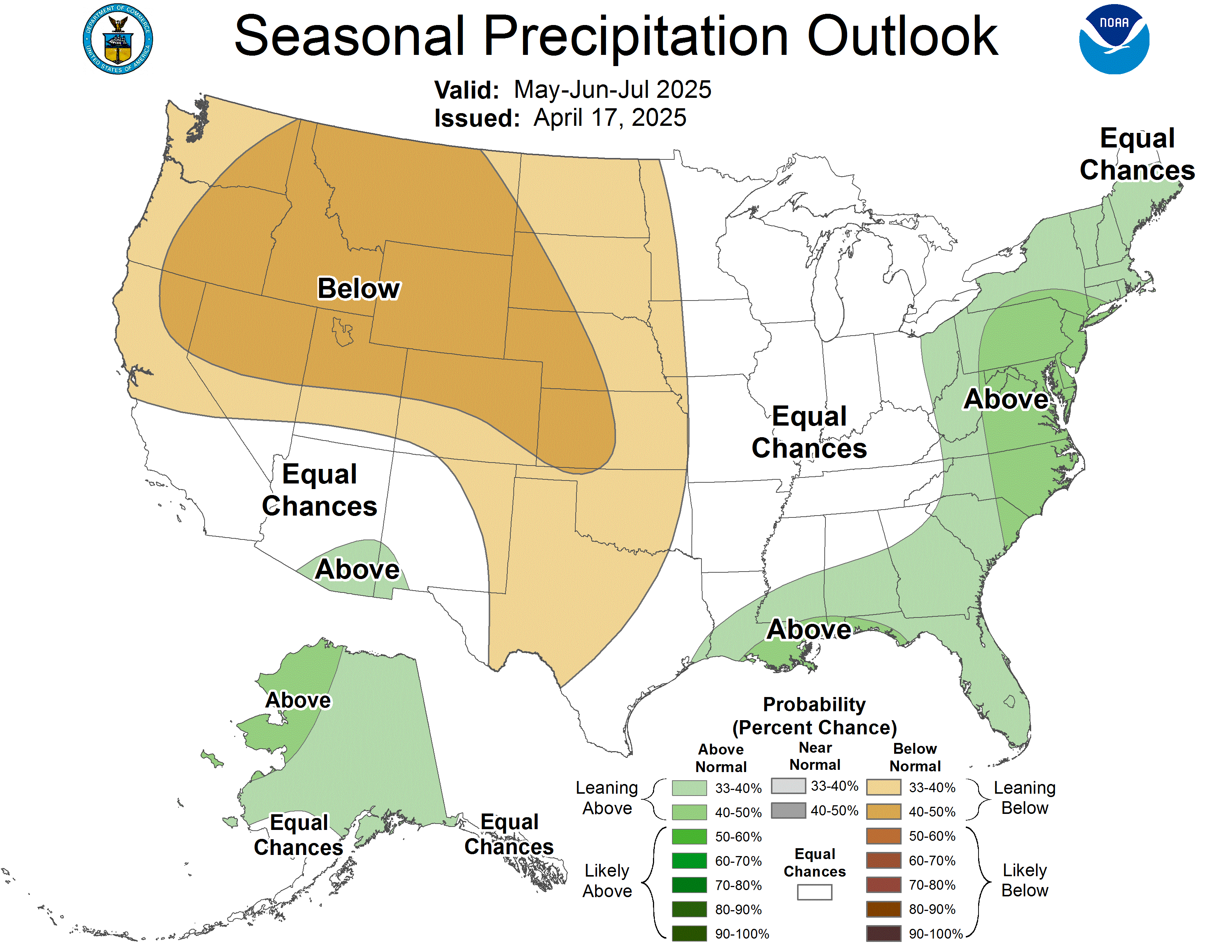 Return to Latest News