A complex of thunderstorms, known as a derecho, raced from Indiana and Ohio across the central Appalachians and into the Mid-Atlantic States during the late afternoon and evening hours of June 29th.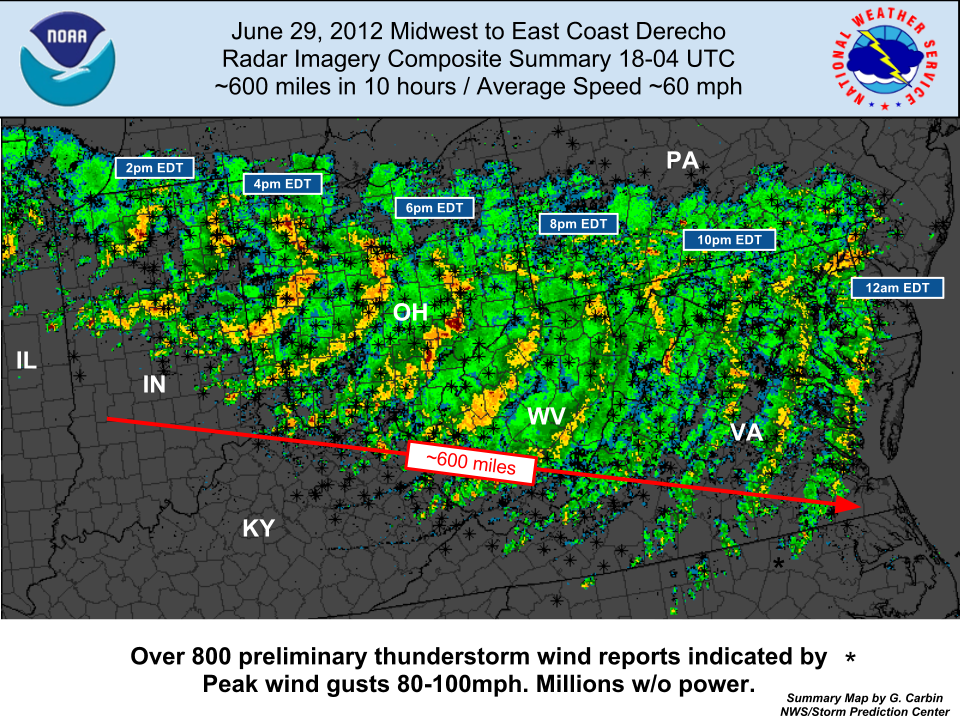 The tail end of this complex skirted eastern Kentucky, but an outflow boundary pushed well away from the storms themselves and brought damaging winds well outside of any areas that saw any rain or thunderstorm activity.
The radar imagery below, courtesy of The University Corporation for Atmospheric Research, shows the thunderstorm complex racing across north and northeast Kentucky between 5 pm and 9 pm EDT on Friday June 29th. The outflow boundary, indicated by the narrow band of echoes racing southward, produced wind speeds up to 68 mph causing numerous downed trees and power outages. At one point, up to 63,800 Kentucky Power customers were without power in eastern Kentucky alone.
The damaging winds extended as far south as an Irvine, Hazard to Elkhorn City line before diminishing. There were even reports of blowing dust with the passage of the front and brush fires caused by the downed power lines. All damage reports received by the National Weather Service in Jackson, KY are listed below. Click on the map for an interactive local storm report viewer for June 29th.

Time
Event
Location
County/State
Remarks/Source
6:18 PM
06/29/2012
Thunderstorm Wind Damage
Flemingsburg
Fleming, KY

TREES AND POWER LINES DOWN COUNTYWIDE.
From: 911 CALL CENTER

6:35 PM
06/29/2012
Thunderstorm Wind Damage
4 N Morehead
Rowan, KY

NUMEROUS TREES DOWN ON ROCK FORK ROAD AND HIGHWAY 377.
From: LAW ENFORCEMENT

6:45 PM
06/29/2012
Thunderstorm Wind Damage
Salt Lick
Bath, KY

A COUPLE TREES BLOWN DOWN.
From: PUBLIC

6:49 PM
06/29/2012
Thunderstorm Wind Damage
Polksville
Bath, KY

NUMEROUS TREES DOWN.
From: EMERGENCY MNGR

6:49 PM
06/29/2012
Thunderstorm Wind Damage
Salt Lick
Bath, KY

POWER LINES DOWN.
From: EMERGENCY MNGR

6:50 PM
06/29/2012
Thunderstorm Wind Damage
4 NW Mount Sterling
Montgomery, KY

TREES AND POWER LINES DOWN ON US 460.
From: LAW ENFORCEMENT

6:50 PM
06/29/2012
68 mph Thunderstorm Wind Gust
2 S Preston
Bath, KY

WIND GUST MEASURED ON HOME WEATHER STATION. NUMEROUS TREES DOWN AT THE RESIDENCE.
From: TRAINED SPOTTER

6:55 PM
06/29/2012
Thunderstorm Wind Damage
Sandy Hook
Elliott, KY

TREES DOWN AND POWER OUTAGES COUNTYWIDE.
From: 911 CALL CENTER

7:08 PM
06/29/2012
Thunderstorm Wind Damage
Stanton
Powell, KY

ROOF DAMAGE ON HOUSE IN STANTON. TREES AND POWER LINES DOWN COUNTYWIDE.
From: 911 CALL CENTER

7:10 PM
06/29/2012
Thunderstorm Wind Damage
Redbush
Johnson, KY

SEVERAL TREES DOWN ON HIGHWAYS 172 AND 3214 WITH THE INITIAL GUST FRONT.
From: TRAINED SPOTTER

7:10 PM
06/29/2012
Thunderstorm Wind Damage
Stanton
Powell, KY

TREES DOWN COUNTYWIDE.
From: 911 CALL CENTER

7:10 PM
06/29/2012
Thunderstorm Wind Damage
West Liberty
Morgan, KY

TREES DOWN IN AND AROUND TOWN.
From: COUNTY OFFICIAL

7:17 PM
06/29/2012
Thunderstorm Wind Damage
2 N Rogers
Wolfe, KY

TREE DOWN ON MILLER RIDGE ROAD.
From: EMERGENCY MNGR

7:18 PM
06/29/2012
Thunderstorm Wind Damage
Toliver
Wolfe, KY

ONE TREE DOWN.
From: NWS EMPLOYEE

7:19 PM
06/29/2012
Thunderstorm Wind Damage
2 NE Campton
Wolfe, KY

TREE DOWN AT THE JUNCTION OF HIRAM BRANCH ROAD AND HIGHWAY 746.
From: EMERGENCY MNGR

7:25 PM
06/29/2012
Thunderstorm Wind Damage
Paintsville
Johnson, KY

TREES DOWN IN DOWNTOWN PAINTSVILLE.
From: PUBLIC

7:25 PM
06/29/2012
Thunderstorm Wind Damage
Irvine
Estill, KY

TREES DOWN IN TOWN AND THROUGHOUT THE COUNTY.
From: 911 CALL CENTER

7:30 PM
06/29/2012
Thunderstorm Wind Damage
Inez
Martin, KY

SEVERAL TREES DOWN AND POWER OUTAGES.
From: PUBLIC

7:36 PM
06/29/2012
0.75 in. Hail
Relief
Morgan, KY

From: TRAINED SPOTTER

7:36 PM
06/29/2012
Thunderstorm Wind Damage
Prestonsburg
Floyd, KY

NUMEROUS CALLS OF TREES AND POWERLINES DOWN.
From: 911 CALL CENTER

7:43 PM
06/29/2012
0.88 in. Hail
Flatgap
Johnson, KY

From: FIRE DEPT/RESCUE

7:45 PM
06/29/2012
Thunderstorm Wind Damage
3 NE Sidney
Pike, KY

TREES DOWN WITH ONE TREE HOLDING THREE OTHERS BACK ABOUT TO FALL ON ROAD AND HOMES.
From: EMERGENCY MNGR

7:45 PM
06/29/2012
Thunderstorm Wind Damage
1 N Elna
Johnson, KY

TREE FELL ON HOUSE CAUSING MINOR DAMAGE.
From: TRAINED SPOTTER

7:58 PM
06/29/2012
Thunderstorm Wind Damage
2 N Raccoon
Pike, KY

TREES AND POWER LINES DOWN AND ON FIRE ON MAYNARD DRIVE.
From: EMERGENCY MNGR

7:58 PM
06/29/2012
Thunderstorm Wind Damage
1 S Mcandrews
Pike, KY

TREES DOWN ON POND CREEK ROAD.
From: EMERGENCY MNGR

7:58 PM
06/29/2012
1 in. Hail
5 NNW Paintsville
Johnson, KY

From: TRAINED SPOTTER

8:00 PM
06/29/2012
Thunderstorm Wind Damage
Chloe
Pike, KY

POWER LINE DOWN AND ON FIRE ON CHLOE ROAD.
From: EMERGENCY MNGR

8:07 PM
06/29/2012
Thunderstorm Wind Damage
Shelbiana
Pike, KY

TREE DOWN. SPOTTER ESTIMATED WINDS SUSTAINED AT 50 MPH WITH GUSTS TO 70 MPH.
From: TRAINED SPOTTER

8:10 PM
06/29/2012
Thunderstorm Wind Damage
Fedscreek
Pike, KY

SEVERAL TREES BLOWN DOWN.
From: PUBLIC
Return to News Archive