...Severe Squall Line Expected This Afternoon...
Latest Multimedia Hazardous Weather Briefing - Updated 8:15 am EDT Tuesday
A strong cold front will affect the area this afternoon, bringing a good chance for much needed rainfall across south-central Indiana and central Kentucky. However, this will come at a price:
1. Before the arrival of any rainfall, the strong cold front will cause sustained gradient winds out of the south at 25-35 mph with gusts up to 45 mph or higher! These strong winds could cause minor tree damage and topple unsecured outdoor items. These winds will also cause driving difficulty, especially on east-to-west roads and especially for high profile vehicles. Thus, a Wind Advisory is in effect for the entire area until 8pm EDT/7pm CDT.
2. As the cold front approaches, a squall line of severe thunderstorms is expected to develop. Given how strong the winds are in the atmosphere, damaging wind gusts over 60 mph will be the main weather threat, and isolated tornadoes will also be possible. Because of this threat for severe weather, the Storm Prediction Center has placed the area along and east of I-65 under a High Risk for severe weather (see image below). As with any thunderstorm, dangerous cloud-to-ground lightning will also occur.
3. Lastly, this front could bring widespread rainfall amounts of one half inch to the area with locally higher amounts where thunderstorms are located.
Please stay abreast of the potential for severe weather by monitoring our website, NOAA All-Hazards Weather Radio, and the following links:
The Storm Prediction Center's Severe Storm Outlook: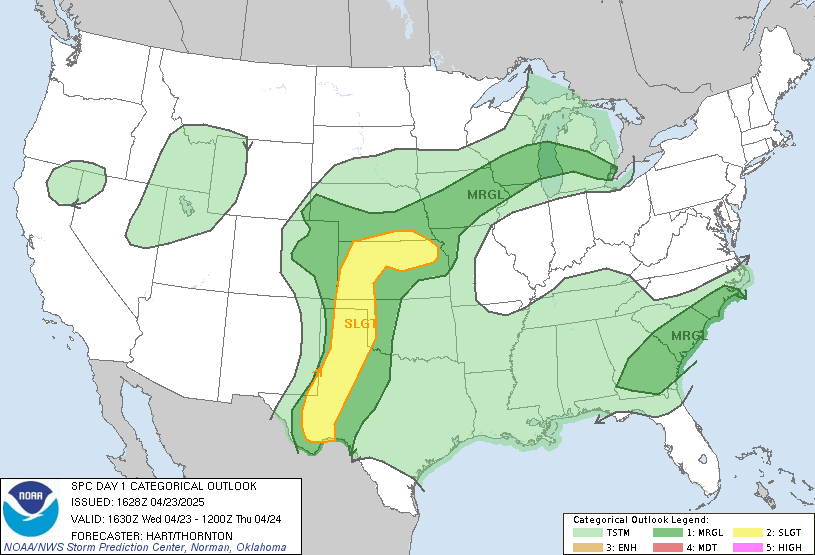 Return to News Archive