Severe Storms of July 19th
Damaging Thunderstorms on the Evening of July 19th
Late Thursday afternoon, severe thunderstorms developed along a weak front in the Bluegrass region and in southern Indiana, and caused widespread wind damage as they rolled southeast through central Kentucky during the evening hours.
The first radar loop runs from roughly 4pm through 8pm, which covers the strong storms that affected southern Indiana, locations in and near the Louisville Metro, and the Bluegrass region.
This loop from 8 PM to 11 PM EDT shows the strong storms pushing farther southeast, causing damage all the way to the Tennessee line.
Wind gusts of 60-64 mph were measured at a few locations, but locally higher gusts likely occurred in between observing sites.
Here are a few pictures of cloud formations and damage that were observed around central Kentucky.
Shelf cloud in Shelbyville

Photo courtesy John Merchant

Shelf cloud on Shelbyville Road in St Matthews

Photo courtesy Barry Sampson

Tree damage in Bowling Green

Photo courtesy Kyle Thompson
The SPC map shows that most of the nation's severe weather on Thursday happened in central and eastern Kentucky.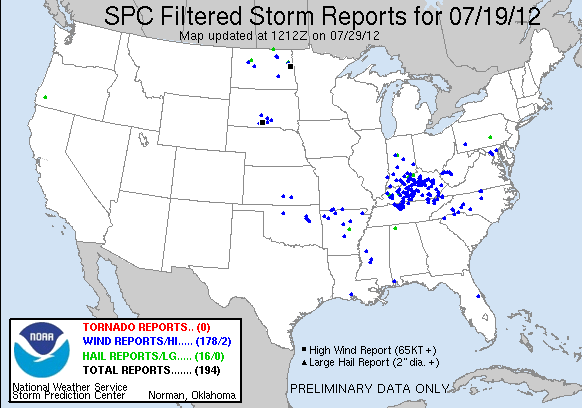 View a list of damage reports in southern Indiana and central Kentucky here.
Return to News Archive