Storms on July 27th
A vigorous upper level disturbance crossed the Midwest Friday, allowing strong to severe storms to develop across southern and central Indiana late in the afternoon and these storms helped to fire off new storms across north central Kentucky. These storms caused 60-70 mph winds across many locations, with numerous reports of trees down as well as power outages. The map below displays the location of reports received by the National Weather Service. A text version of this summary is here.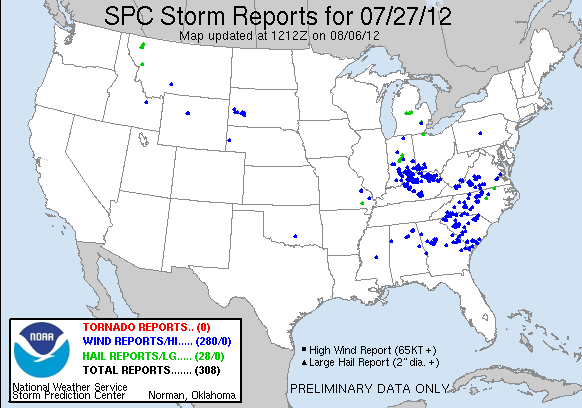 The loop below gives the radar display from late in the afternoon to 8 PM. The loop below that runs from just after 8 PM to the end of the event.
The map below shows 24-hour accumulated precipitation as of 7 AM Saturday, July 28th across central Kentucky and southern Indiana. The second map shows the same data for all of Kentucky.
Return to News Archive