January 30th Severe Weather - Preliminary Summary
A powerful line of storms moved through the Ohio Valley during the pre-dawn hours of January 30th, 2013. The storms developed ahead of a strong cold front trailing from a strengthening surface low that moved into the lower Great Lakes. These storms tapped into incredibly strong winds just above the surface and produced scattered instances of damage throughout southern Indiana and central Kentucky. Below is a surface map from just after midnight on the 30th, depicting the strong surface low and trailing cold front. Note the sharp temperature changes between the upper 60s across our area, and temperatures below zero in Montana and southern Canada. We will be adding information to this webpage as we get it.
This storm system spawned several tornadoes across southern Indiana and central Kentucky as it swept through. Below are a list of the confirmed tornadoes that have been surveyed so far. Information will continue to be added to these pages as it becomes available.
Below is a summary of the reports across the region from the Storm Prediction Center.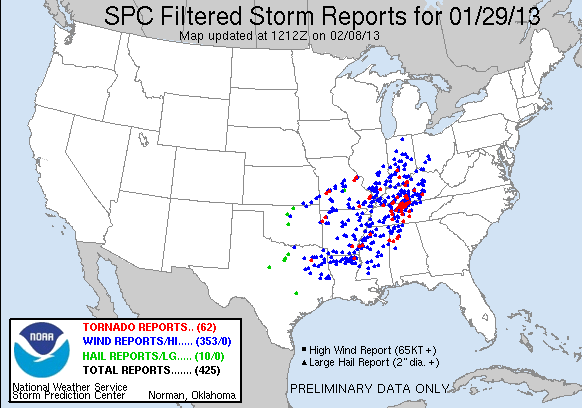 Below is a summary of preliminary storm reports the NWS in Louisville has received so far.
PRELIMINARY LOCAL STORM REPORT...SUMMARY
NATIONAL WEATHER SERVICE LOUISVILLE KY
1147 AM EST WED JAN 30 2013

..TIME... ...EVENT... ...CITY LOCATION... ...LAT.LON...
..DATE... ....MAG.... ..COUNTY LOCATION..ST.. ...SOURCE....
..REMARKS..

0202 AM TSTM WND DMG 5 WSW GATCHEL 38.03N 86.74W
01/30/2013 PERRY IN EMERGENCY MNGR

STRUCTURAL DAMAGE ON A HOUSE...INCLUDING WALLS DOWN ON
A GARAGE. FIELD TANKS WERE ALSO OVERTURNED AND SEVERAL
TREES WERE DOWNED. TIME ESTIMATED FROM RADAR

0248 AM TSTM WND DMG 2 N WEST BADEN SPRINGS 38.60N 86.61W
01/30/2013 ORANGE IN LAW ENFORCEMENT

PORCH AND PART OF A ROOF BLOWN OFF OF A HOUSE AND ALSO
TREES AND POWER LINES DOWN NEAR UPPER SAND HILL ROAD.

0311 AM NON-TSTM WND DMG BATTLETOWN 38.07N 86.30W
01/30/2013 MEADE KY TRAINED SPOTTER

TREES DOWN IN THE BATTLETOWN AREA.

0328 AM TSTM WND DMG 2 E SALEM 38.60N 86.06W
01/30/2013 WASHINGTON IN EMERGENCY MNGR

ROOF BLOWN OFF OF A RESIDENCE NEAR STATE ROAD 160 ALSO
2 BARNS DAMAGED AND POWER LINES DOWN.

0406 AM TSTM WND DMG 5 NW FORT KNOX 37.94N 86.03W
01/30/2013 MEADE KY PUBLIC

DOWNED POWER LINES NEAR THE INTERSECTION OF HIGHWAY
1638 AND 1248.

0410 AM TSTM WND DMG CANEYVILLE 37.42N 86.49W
01/30/2013 GRAYSON KY LAW ENFORCEMENT

SMALL GARAGE BLOWN INTO THE ROAD.

0412 AM TSTM WND GST FORT KNOX 37.89N 85.96W
01/30/2013 M60 MPH HARDIN KY OTHER FEDERAL

0415 AM TSTM WND DMG BROWNSVILLE 37.19N 86.26W
01/30/2013 EDMONSON KY LAW ENFORCEMENT

SEVERAL TREES DOWN ACROSS THE COUNTY.

0415 AM TSTM WND DMG 4 S VALLEY STATION 38.05N 85.87W
01/30/2013 JEFFERSON KY BROADCAST MEDIA

TREES BLOCKING PENDLETON ROAD

0415 AM TSTM WND DMG ELIZABETH 38.13N 85.97W
01/30/2013 HARRISON IN LAW ENFORCEMENT

BUILDINGS DAMAGED

0421 AM TSTM WND DMG PLEASURE RIDGE PARK 38.15N 85.85W
01/30/2013 JEFFERSON KY LAW ENFORCEMENT

TREES AND POWER LINES DOWN.

0440 AM TSTM WND DMG SMITHS GROVE 37.05N 86.21W
01/30/2013 WARREN KY BROADCAST MEDIA

SIGNS BLOWN DOWN...NUMEROUS TREES AND POWER
LINES...SOME STRUCTURAL DAMAGE IN SMITHS GROVE.

0440 AM TSTM WND DMG PEWEE VALLEY 38.31N 85.49W
01/30/2013 OLDHAM KY LAW ENFORCEMENT

A TREE FELL AND DOWNED A POWER LINE IN THE PEWEE VALLEY
AREA. TIME ESTIMATED FROM RADAR

0442 AM TSTM WND DMG SCOTTSVILLE 36.75N 86.20W
01/30/2013 ALLEN KY LAW ENFORCEMENT

TREES DOWN ACROSS THE COUNTY.

0443 AM TSTM WND DMG 3 W PARK CITY 37.09N 86.11W
01/30/2013 EDMONSON KY EMERGENCY MNGR

BODY SHOP DESTROYED... 5000 LB TANK MOVED 300 YARDS...
DEBRIS IN TREES

0445 AM TSTM WND GST 4 SSE ROSEVILLE 36.83N 85.90W
01/30/2013 M62 MPH BARREN KY CO-OP OBSERVER

0450 AM TSTM WND GST GLASGOW 37.00N 85.92W
01/30/2013 M57 MPH BARREN KY MESONET

AT THE MESONET IN BARREN COUNTY.

0450 AM TSTM WND DMG CAVE CITY 37.14N 85.96W
01/30/2013 BARREN KY LAW ENFORCEMENT

SHED BLOWN ONTO HWY 90

0456 AM TSTM WND DMG GLASGOW 37.00N 85.92W
01/30/2013 BARREN KY PUBLIC

DOWNED TELEPHONE POLE BLOCKING HWY 1297 NORTH OF HWY 31
IN GLASGOW

0459 AM TSTM WND GST CAVE CITY 37.14N 85.96W
01/30/2013 M59 MPH BARREN KY TRAINED SPOTTER

0517 AM TSTM WND DMG EDMONTON 36.98N 85.62W
01/30/2013 METCALFE KY PUBLIC

TREES AND LINES DOWN...ALONG WITH A SMALL OUTBUILDING
BLOWN ONTO A ROADWAY IN EDMONTON.

0530 AM TSTM WND GST CAMPBELLSVILLE 37.35N 85.35W
01/30/2013 M55 MPH TAYLOR KY MESONET

0535 AM TSTM WND GST LEBANON 37.57N 85.25W
01/30/2013 M55 MPH MARION KY MESONET

0540 AM TSTM WND DMG 4 SE NEW MARKET 37.45N 85.26W
01/30/2013 MARION KY LAW ENFORCEMENT

*** 2 INJ *** MOBILE HOME DAMAGE REPORTED ALSO NUMEROUS
POWER LINES DOWN.

0540 AM TSTM WND DMG 4 SSE THREE FORKS 36.90N 86.18W
01/30/2013 ALLEN KY TRAINED SPOTTER

SEVERAL TREES BLOWN DOWN BLOCKING HWY 1533

0540 AM TSTM WND DMG 2 N HOLLAND 36.73N 86.07W
01/30/2013 ALLEN KY COUNTY OFFICIAL

A FEW BARN ROOVES DOWN ALONG PITCHFORD RIDGE ROAD.
PARTIAL HOME ROOF DAMAGE AS WELL AS SEVERAL TREES DOWN
AROUND THE COUNTY.

0549 AM TSTM WND DMG CAMPBELLSVILLE 37.35N 85.35W
01/30/2013 TAYLOR KY LAW ENFORCEMENT

SEVERAL TREES DOWN ACROSS THE COUNTY.

0619 AM TSTM WND DMG 1 S NICHOLASVILLE 37.86N 84.58W
01/30/2013 JESSAMINE KY EMERGENCY MNGR

A TV TOWER AT THE COUNTY UTILITY BUILDING WAS BLOWN
DOWN.

0621 AM TSTM WND DMG 3 E NICHOLASVILLE 37.88N 84.52W
01/30/2013 JESSAMINE KY EMERGENCY MNGR

TIN FROM A BARN ROOF WAS THROWN INTO THE ROADWAY.

0626 AM TSTM WND DMG 4 ENE LEXINGTON 38.07N 84.39W
01/30/2013 FAYETTE KY LAW ENFORCEMENT

UTILITY POLE DOWN ON BRIAR HILL ROAD
Return to Latest News