DROUGHT BRIEFING PAGE
9/10/2013...Areas of D1 moderate drought have crept back into portions of east central Illinois and northwest Indiana within our area. The moderate drought area covered portions of LaSalle, Livingston, Ford, Iroquois, and Kankakee counties in Illinois as well as mostly Newton and Benton counties in NW Indiana.
The U.S. Drought Monitor is a weekly collaborative effort between a number of federal agencies including NOAA/NWS, U.S. Department of Agriculture and the National Drought Mitigation Center. Details and explanations of the Drought Monitor can found at the web site:

http://droughtmonitor.unl.edu/

The categories of drought are defined as follows:



Abnormally Dry (D0) - Going into drought: short-term dryness slowing planting, growth of crops or pastures; fire risk above average. Coming out of drought: some lingering water deficits; pastures or crops not fully recovered.

Moderate Drought (D1) - Some damage to crops, pastures; fire risk high; streams, reservoirs, or wells low, some water shortages developing or imminent, voluntary water use restrictions requested.

Severe Drought (D2) - Crop or pasture losses likely; fire risk very high; water shortages common; water restrictions imposed.

Extreme Drought (D3) - Major crop/pasture losses; extreme fire danger; widespread water shortages or restrictions.

Exceptional Drought (D4) - Exceptional and widespread crop/pasture losses; exceptional fire risk; shortages of water in reservoirs, streams, and wells, creating water emergencies.
D1 Drought Areas: Far southern LaSalle, Livingston, Iroquois, Ford, eastern Kankakee, far southern Porter, Newton, Benton, far southern Jasper.
SUMMARY OF IMPACTS
State and Local Government Actions
No actions are currently being reported.
Click here for the latest Crop Progress and Condition Report in Illinois
Click here for the latest Crop Progress and Condition Report in Indiana
Hydrologic Impacts (River and Streamflows and Groundwater Conditions)
Below are real-time streamflow conditions from USGS WaterWatch:
The Keetch-Byram Drought Index (KBDI) is a drought index that is specifically related to fire potential. The KBDI is broken into four categories which indicate the susceptibility of ground fuels to fire danger. Below are the four categories and a brief description of each.


Keetch-Byram Drought Index (KBDI)

KBDI Value

Description of Fire Potential

0 to 200

Low - Wet with little danger of fire initiation

201 to 400

Moderate - Drying occurring with some fire danger

401 to 600

High - Ground cover dry and will burn readily

601 to 800

Extreme - Dead and live fuels will burn readily

KBDI and Dead Fuel Moisture data can be found on the Wildland Fire Assessment System (WFAS) web site at:
The images below show the amount of precipitation that has fallen across the region in the past 7 and 30 days, respectively:
| | |
| --- | --- |
| Precipitation Last 7 Days | Precipitation Last 30 Days |
| | |


Long Range Precipitation and Temperature Outlooks
Below is the 5-day forecast precipitation outlook from the Hydrometeorological Prediction Center:
Below is the 8-14 day precipitation and temperature outlook from the Climate Prediction Center (CPC) :
Below is the one month precipitation and temperature outlook from the CPC:
Below is the 90-day precipitation and temperature outlook from the CPC:
Finally, here is a look at the US Seasonal Drought Outlook, issued by the CPC: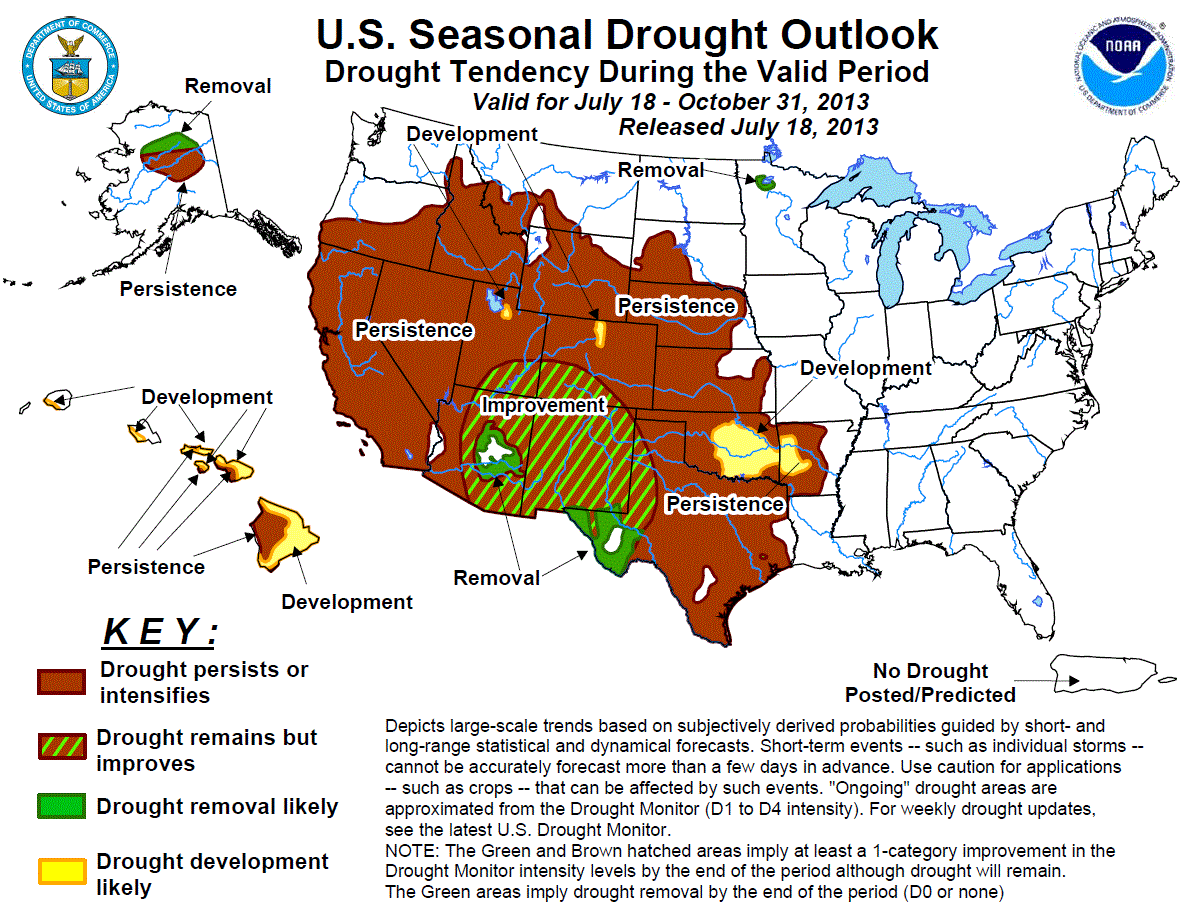 Questions or Comments:
If you have any questions or comments about this information, please contact:
National Weather Service- Chicago
333 West University Drive Romeoville, IL 60446
Phone: 815-834-0600 Email: lot.webmaster@noaa.gov
Acknowledgements:
The drought monitor is a multi-agency effort involving NOAA's national weather service and national climatic data center, the USDA, state and regional center climatologists and the national drought mitigation center. Information for this statement has been gathered from NWS and FAA observation sites, cooperative and volunteer observations, USDAFS, the USDA and USGS.
The Illinois Drought Response Task Force:
Indiana Drought Information:
For state climate impacts:
http://www.stateclimate.org/
Illinois State Climatologist:
http://www.isws.illinois.edu/atmos/statecli/
Indiana State Climate Office:
https://climate.agry.purdue.edu/climate/index.asp
Illinois Water Survey Drought Pages:
http://www.isws.illinois.edu/hilites/drought/
U.S. Drought Portal:
http://www.drought.gov
USGS Water Conditions
http://water.usgs.gov/
Drought Impact Reporter view or submit drought impact reports
http://droughtreporter.unl.edu/
Illinois Farm Bureau Farm Week Crop Watchers: cropwatchers.ilfb.org/
Return to Latest News