Recap of June 27th Severe Storms
Synopsis | Radar | Storm Reports
---
An upper level disturbance moved from southern Wisconsin into northeast Illinois during the mid to late afternoon on June 27. This was on a strong northwesterly jet stream at and above 15,000 ft. This helped in large scale ascent, which is favorable for deep cloud development. The jet stream also helped to support strong wind shear favorable for supercell storms. At the surface there was little of focus or convergence, but there was a moist axis with high dew point air up to northeast Illinois and southern Wisconsin. This served as an instability reservoir. The combination of shear and this instability offered rotating updrafts supportive of large hail. Some of this rotation made it near the cloud base level, with a couple wall clouds being reported with storms over the west Chicago metro, although the environment was not favorable for tornadoes. The instability not only allowed for strong updrafts but also strong downdrafts from storms, which meant gusty winds under and sweeping out from storm bases.
| | | |
| --- | --- | --- |
| Deep Layer Shear (0-6 km) | Instability (MLCAPE) | Low-Level Lapse Rates |
| | | |
| Deep layer shear in excess of 40 kt supports storm organization, including supercell thunderstorms capable of rotating updrafts favorable for hail. Such was the case on Thursday. | Modest instability was present in an axis immediately ahead of the upper level disturbance thanks to warming into the upper 80s and dew points in the lower 70s. | Low-level lapse rates were steep (near dry adiabatic) across northeast Illinois into far northwest Indiana. This supports accelerating downdrafts capable of strong winds at the surface that can often rush out a ways from the storms. |
---
NWS Chicago 0.5° Reflectivity Radar Loop: Mid-Afternoon Through Early Eve
Click for high res loop (~ 9 MB)
Below are a series of three-dimensional reflectivity images from the NWS Chicago radar. This is of the supercell storm across Lake County, IN just before 7 pm, which brought golf ball size hail and 60 to 70 mph gusts to Merrillville. The white colored data are of reflectivity values at or greater than 60 dBZ, which is high power returned to the radar indicating heavy precipitation, and at times hail especially when seen above the freezing level (~14000 ft on June 27th). Note how this core overhangs on the south and southeast sides, often a sign of a well-organized storm with a potent updraft. The deep core descends quickly in just nine minutes, seen in the last two images. This core collapse was responsible for the large hail reaching the surface and aided in gusty winds.
Three-Dimensional Reflectivity View of Lake County, IN Storm Which Produced Severe Hail & Winds
6:37 pm
6:42 pm
6:47 pm
6:51 pm
---
Nationwide Reports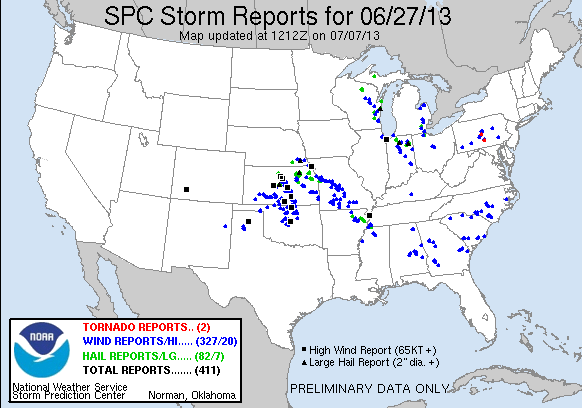 PRELIMINARY LOCAL STORM REPORT...SUMMARY
NATIONAL WEATHER SERVICE CHICAGO/ROMEOVILLE IL
744 AM CDT FRI JUN 28 2013

..TIME...   ...EVENT...      ...CITY LOCATION...     ...LAT.LON...
..DATE...   ....MAG....      ..COUNTY LOCATION..ST.. ...SOURCE....
            ..REMARKS..

0428 PM     TSTM WND GST     4 ESE MARENGO           42.23N 88.53W
06/27/2013  M47.00 MPH       MCHENRY            IL   MESONET

0448 PM     HEAVY RAIN       5 WNW ALGONQUIN         42.20N 88.39W
06/27/2013  M0.73 INCH       MCHENRY            IL   TRAINED SPOTTER

            RAIN FELL IN 20 MINUTES IN LAKE OF THE HILLS. MINOR PARK
            FLOODING AND FLOODING OF PARKING LOT.

0452 PM     TSTM WND GST     2 SSW ALGONQUIN         42.14N 88.32W
06/27/2013  M47.00 MPH       KANE               IL   MESONET

0511 PM     TSTM WND GST     2 N BUFFALO GROVE       42.19N 87.96W
06/27/2013  M42.00 MPH       LAKE               IL   MESONET

0516 PM     TSTM WND GST     SOUTH BARRINGTON        42.09N 88.15W
06/27/2013  E45.00 MPH       COOK               IL   TRAINED SPOTTER

            WITH TORRENTIAL DOWNPOUR.

0524 PM     TSTM WND GST     5 SSW ARLINGTON HEIGHTS 42.04N 88.03W
06/27/2013  E50.00 MPH       COOK               IL   TRAINED SPOTTER

            ESTIMATED 50 MPH GUST AND MARBLE SIZE HAIL AT HIGGINS
            ROAD AND U.S. 53.

0527 PM     HEAVY RAIN       5 WNW ALGONQUIN         42.20N 88.39W
06/27/2013  M1.14 INCH       MCHENRY            IL   TRAINED SPOTTER

            TOTAL RAIN FALL IN LESS THAN AN HOUR.

0530 PM     HAIL             ELK GROVE VILLAGE       42.01N 87.99W
06/27/2013  E0.50 INCH       COOK               IL   TRAINED SPOTTER

            NEAR 72 AND 355 ESTIMATED 45 MPH WIND ALSO.

0536 PM     TSTM WND GST     OHARE AIRPORT           41.98N 87.90W
06/27/2013  M48.00 MPH       COOK               IL   OFFICIAL NWS OBS

            GUST AT OHARE ASOS.

0550 PM     TSTM WND DMG     OAK PARK                41.89N 87.79W
06/27/2013                   COOK               IL   PUBLIC

            ESTIMATED 70 MPH GUST. 4-6 INCH DIAMETER TREE BRANCHES
            DOWN. PEA SIZE HAIL ALSO REPORTED.

0550 PM     HEAVY RAIN       2 E SCHAUMBURG          42.03N 88.04W
06/27/2013  M1.15 INCH       COOK               IL   COCORAHS

            RAINFALL IN 40 MINUTES. ALSO WIND GUST TO 45 MPH.

0551 PM     TSTM WND GST     3 N ADDISON             41.98N 88.01W
06/27/2013  M55.00 MPH       DUPAGE             IL   MESONET

0556 PM     HEAVY RAIN       HOFFMAN ESTATES         42.06N 88.14W
06/27/2013  M1.30 INCH       COOK               IL   TRAINED SPOTTER

            STORM TOTAL...RAIN HAS ENDED. NORTH SIDE OF TOWN NEAR
            BARRINGTON AND PALATINE ROADS.

0559 PM     TSTM WND GST     BERWYN                  41.84N 87.79W
06/27/2013  E65.00 MPH       COOK               IL   PUBLIC

            NUMEROUS MODERATE SIZED BRANCHES DOWNED.

0600 PM     HEAVY RAIN       5 NNE ADDISON           42.00N 87.98W
06/27/2013  M1.06 INCH       COOK               IL   COCORAHS

            RAIN FALL IN LAST 45 MINUTES. MINOR STREET FLOODING.
            SMALL BRANCHES DOWN.

0600 PM     MARINE TSTM WIND 4 NE CHICAGO            41.92N 87.57W
06/27/2013  M41.00 MPH       LMZ741             IL   C-MAN STATION

            MEASURED AT THE HARRISON CRIB.

0607 PM     TSTM WND GST     MIDWAY AIRPORT          41.78N 87.75W
06/27/2013  M55.00 MPH       COOK               IL   ASOS

            GUST AT KMDW ASOS.

0607 PM     TSTM WND DMG     5 SE CICERO             41.79N 87.70W
06/27/2013                   COOK               IL   PUBLIC

            LARGE TREE DOWN ON CAR. WINDS ESTIMATED 60 MPH.

0610 PM     TSTM WND GST     3 SW MIDWAY AIRPORT     41.75N 87.79W
06/27/2013  M53.00 MPH       COOK               IL   CO-OP OBSERVER

            WITH 0.09 INCHES OF RAIN.

0615 PM     HEAVY RAIN       4 NE BROOKFIELD         41.87N 87.79W
06/27/2013  M1.00 INCH       COOK               IL   COCORAHS

            RAIN FALL IN 15 MINUTES.

0615 PM     HAIL             1 NNW CHATHAM           41.75N 87.63W
06/27/2013  E1.00 INCH       COOK               IL   PUBLIC

            SLIGHTLY LARGER THAN QUARTER SIZED HAIL AT THE CHURCHS
            CHICKEN.

0616 PM     HEAVY RAIN       BERWYN                  41.84N 87.79W
06/27/2013  M0.95 INCH       COOK               IL   PUBLIC

            MEASURED IN 17 MINUTES.

0627 PM     TSTM WND GST     OAK LAWN                41.72N 87.75W
06/27/2013  E50.00 MPH       COOK               IL   TRAINED SPOTTER

            PEA SIZE HAIL ALSO FELL.

0636 PM     TSTM WND GST     4 WNW GARY              41.62N 87.42W
06/27/2013  M77.00 MPH       LAKE               IN   OFFICIAL NWS OBS

            MEASURED BY THE AWOS AT THE GARY AIRPORT

0642 PM     HAIL             GRIFFITH                41.52N 87.42W
06/27/2013  M0.75 INCH       LAKE               IN   TRAINED SPOTTER

0645 PM     HAIL             1 N CROWN POINT         41.44N 87.36W
06/27/2013  M0.88 INCH       LAKE               IN   COCORAHS

            DELAYED REPORT. 5 MINUTES OF HAIL RESULTED IN SHREDDED
            LEAVES.

0645 PM     FLASH FLOOD      7 SW CHICAGO            41.81N 87.73W
06/27/2013                   COOK               IL   BROADCAST MEDIA

            EXIT RAMP CLOSED FROM SOUTHBOUND INTERSTATE 55 TO CICERO
            AVENUE DUE TO FLOODING.

0646 PM     TSTM WND DMG     MERRILLVILLE            41.47N 87.33W
06/27/2013                   LAKE               IN   PUBLIC

            A FEW TREES AND POWER LINES DOWNED. TIME ESTIMATED PER
            OTHER REPORT OF HIGH WINDS IN MEERILLVILLE.

0646 PM     TSTM WND GST     MERRILLVILLE            41.47N 87.33W
06/27/2013  E60.00 MPH       LAKE               IN   TRAINED SPOTTER

            WIND GUSTS LASTED FOR AROUND TWO MINUTES.

0650 PM     HAIL             MERRILLVILLE            41.47N 87.33W
06/27/2013  E0.75 INCH       LAKE               IN   TRAINED SPOTTER

            PEA TO PENNY SIZED HAIL NEAR THE INTERSECTION OF
            MISSISSIPPI STREET AND 73RD AVENUE. HALF MILE EAST OF
            I-65.

0650 PM     HAIL             MERRILLVILLE            41.47N 87.33W
06/27/2013  E1.75 INCH       LAKE               IN   TRAINED SPOTTER

            LASTED FOR TWO MINUTES AND WAS PRECEDED BY SEVERE WIND
            GUSTS.

0654 PM     HAIL             MERRILLVILLE            41.47N 87.33W
06/27/2013  M1.00 INCH       LAKE               IN   EMERGENCY MNGR

0655 PM     HAIL             3 NE MERRILLVILLE       41.50N 87.28W
06/27/2013  E0.75 INCH       LAKE               IN   TRAINED SPOTTER


 



Return to News Archive