Strong thunderstorms moved across southern Wisconsin during the overnight hours of Monday June 16th into the early morning of June 17th. Several rounds of thunderstorms deposited heavy rainfall across much of south central Wisconsin. The below graphic highlights those areas that received the heaviest rainfall:
A listing of 24 hour rainfall totals is available here. Some of the heavier totals that have been relayed to the NWS office in Sullivan include 3.5 inches in Beloit, 3.1 at South Wayne (Lafayette county), 2.6 inches at Reedsburg, 2.1 inches at Hartford and 2 inches at Jefferson and Elkhart Lake.
In addition, straight line winds caused considerable damage to trees and structures. A possible tornado may have touched down in the Verona area of Dane county. Additional information can be found on our Top News story addressing the severe weather.
More thunderstorms are likely at times tonight and again Wednesday night into Thursday, with the chance for thunderstorms continuing at other times into Sunday. Some of the thunderstorms tonight through may be severe through Wednesdy, and will likely produce heavy rainfall.
For more detailed weather information, check out the Milwaukee/Sullivan Severe weather briefing page. Below are the latest Storm Prediction Centers severe weather outlooks for Monday through Wednesday.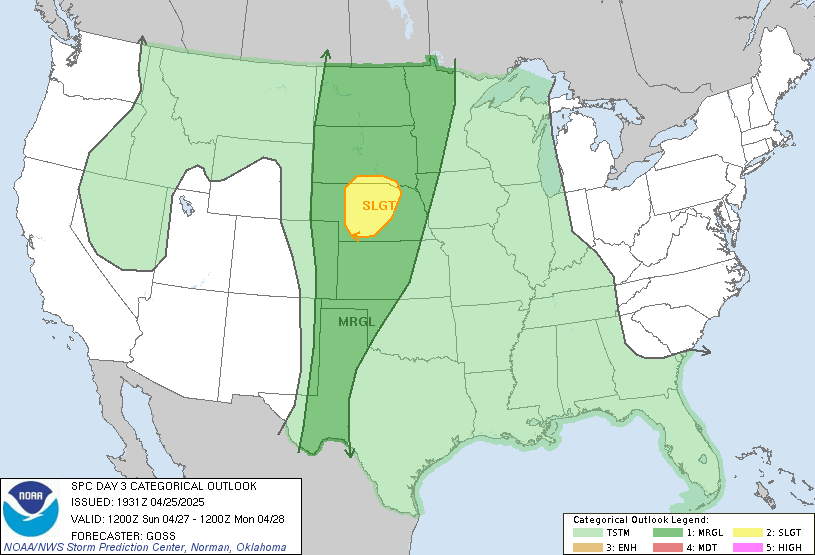 Here are the latest regional radar animations showing where the showers and thunderstorms are currently in relation to southern Wisconsin.
Latest Regional Radar Animations - Click for larger view

| | |
| --- | --- |
| | |
Unsettled weather will continue through the week. A front will waver from northern Illinois to central Wisconsin from today through Saturday resulting in periods of thunderstorms. The below graphic from the NWS Weather Prediction Center shows an estimate of the front location Friday morning.
The repeated bouts of thunderstorms will result in heavy rainfall. The below graphic shows an estimate of rainfall for the next week, not including the rainfall which occurred Monday night. Much of the Upper Midwest including southern Wisconsin is expected to receive between 3 and 5 inches of rainfall, with the heaviest over southern Minnesota, Iowa and southern Wisconsin.
Potential Rainfall Through Next Week - Click for Larger View
---
Kavinsky/Hentz/REM
National Weather Service - Milwaukee/SullivanReturn to News Archive