Low pressure will take an east to northeast track into southwest Minnesota later tonight, and across northern Wisconsin on Wednesday, as depicted by the image below:

Increasing south to southeast winds ahead of this system will continue to pull warmer air and deep moisture rapidly northward this evening and overnight. The warmer air will be surging into southern Wisconsin at the time that areas of widespread precipitation are expected to start developing later this afternoon and this evening. These conditions will result in a mixture of snow, sleet and rain developing this afternoon and evening.
The warmer air this evening will eventually change most of the mixture over to rain. An exception will be across the Fond du Lac, Sheboygan, Westfield and Berlin areas, where a mix of rain and snow is expected through most of tonight. A rumble or two of thunder is even possible across southern Wisconsin during the evening and overnight hours.

See the image below for the latest Warnings and Advisories across the country. Note the purple shading in the Upper Midwest and northern Plains indicates a Winter Weather Advisory, and the pink indicates a Winter Storm Warning: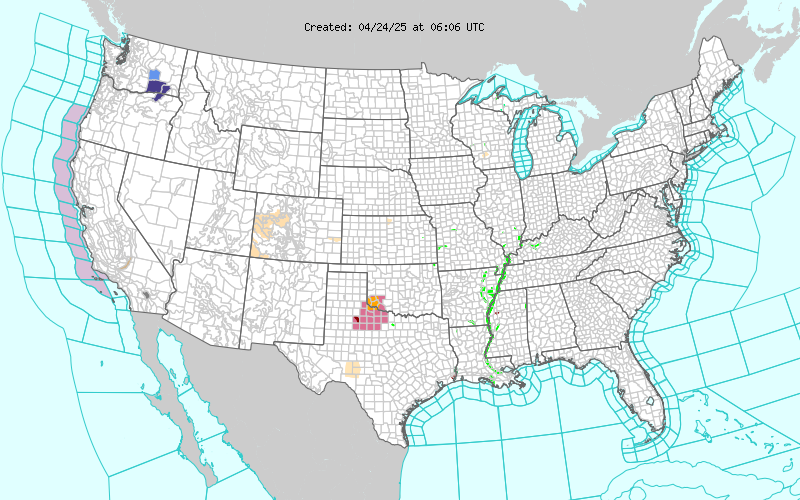 The following graphic highlights where the heaviest snow is expected over the region, as well as the various precipitation types expected over southern Wisconsin:
The graphic below depicts the expected total snowfall amounts over southern Wisconsin from this evening into Wednesday evening, based on the current forecast trends. Much of the accumulation from around Madison to Milwaukee and southward would occur later Wednesday afternoon and into the evening, as colder air filters in. Any shifts in the low pressure track would result in a change in the location of the heavier snow, though confidence in this storm track continues to increase.

.
The image below is the statewide expected snowfall for the same time frame:

Stay tuned to the latest forecasts and statements regarding this winter weather event.
For the latest information, see our Hazardous Weather Outlook and Winter Weather Page.
To submit a snowfall report, click here.
---
NWS Milwaukee/Sullivan, WI
Kavinsky/REM/Cronce/Hentz/Wood
Return to News Archive