Rapidly developing and fast moving Low pressure tracked from central Illinois at midday today, to lower Michigan by evening. Moderate to heavy snow resulted across southern Wisconsin, including a few reports of thundersnow.

A Winter Storm Warning continues until midnight for Fond du Lac, Sheboygan, Ozaukee, Washington, and Dodge counties. These counties should expect snowfall accumulations of 6-8 inches with higher, localized amounts possible.

The graphic below shows the watches, warnings, and advisories that have been issued.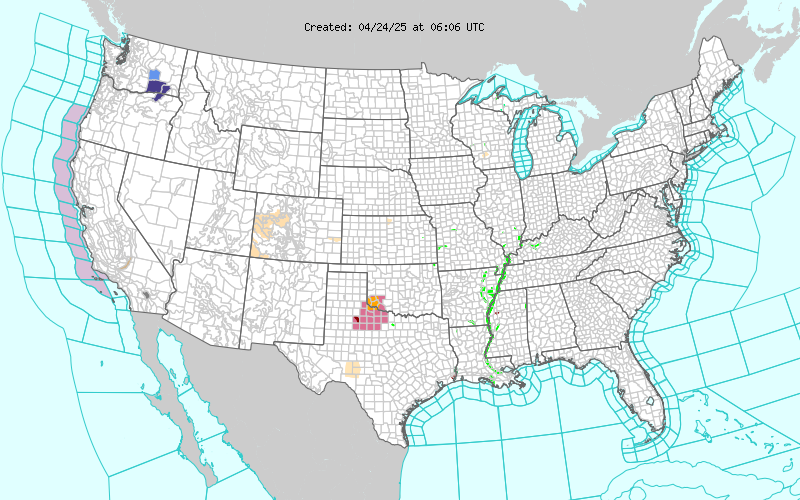 Moderate to heavy snow will continue over southeast and east central Wisconsin through mid to late evening. See the graphic below for the weather conditions this evening.
Moderate snowfall will persist until between 10 PM and 12 AM in east central Wisconsin. 1 to 2 inch per hour snowfall rates will quickly result in snow covered roads and reduced visibilities of 1/4 mile or less. Under these conditions, traveling will be very slow and hazardous. Numerous accidents are being reported and traveling is not recommended.
The graphic below depicts the expected total snowfall amounts over southern Wisconsin through late evening.


The image below is the statewide expected snowfall for the same time frame:

Snowfall reports are coming in. Please view the two graphics below for the latest snowfall reports. Click here for a text version of the reports.

Lastly, here is a graphic showing accumulations all across southern Wisconsin. Use this graphic to get an idea of accumulations at locations not shown in the graphics above.
Stay tuned to the latest forecasts and statements regarding this winter weather event.
For the latest information, see our Hazardous Weather Outlook and Winter Weather Page.
To submit a snowfall report, click here.
---
NWS Milwaukee/Sullivan, WI
Return to News Archive