How Rare Are October Tornadoes? - Updated with New Information!
How rare are tornadoes in October? Very rare, especially for an EF4! The average across the entire state of Nebraska since 1950 is 1 in September and 1 in October. The total reports of tornadoes in October from 1950-2012 was 75.
For those that live in Iowa, we have statistics from 1980-2012 that show only 13 tornadoes in October.
When was the last EF4+ tornado in Nebraska? The last EF4 was the Hallam tornado on May 22, 2004.
When was the last October EF4+ tornado anywhere in the U.S? There have been only 5 other tornadoes in October since 1950 anywhere in the U.S. that were rated (E)F4 or stronger. Nebraska is the only state to have recorded more than one (E)F4+ tornado in October. The last October (E)F4+ tornado was an F4 in Connecticut on October 3, 1979. Oklahoma had an F4 on October 5, 1970. Iowa recorded an F5 on October 14, 1966. Louisiana had an F4 tornado on October 3, 1964. Finally, Nebraska reported an F4 on October 29, 1956.
When was the last October tornado outbreak that touched Nebraska or Iowa? On October 19, 2001, a total of 10 tornadoes were reported in Nebraska, including one F3 and one F2 along with 8 weaker tornadoes.
The typical peak months for tornadoes are May and June. The map below shows the preliminary tornado additions for 2013. Map courtesy of NWS Omaha/Valley and Hastings, NE. Below these, there are maps of the storm reports for October 3 and 4 of this year. Note - there may be multiple reports of the same tornado.
Storm Reports for October 3 and October 4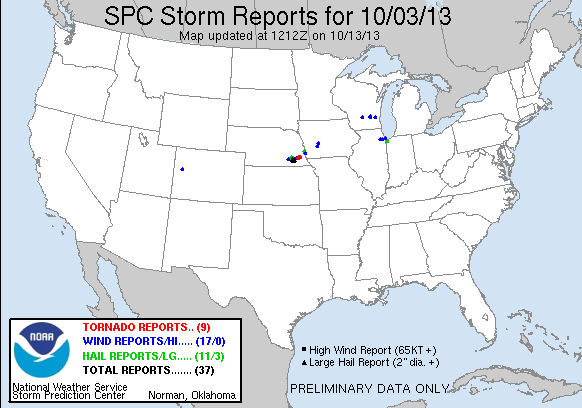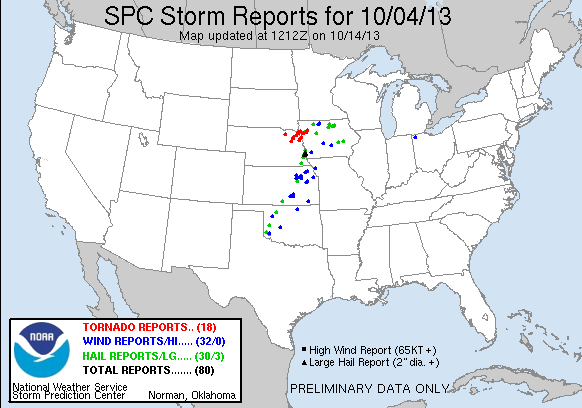 Return to News Archive