So, La Niña is back again this winter...
Last winter's extreme weather can be directly attributed to the extrodinarily strong La Niña that graced the equatorial Pacific. Back in September, forecasters with NOAA's Climate Prediction Center (CPC) upgraded August's La Niña Watch to a La Niña Advisory, and the avisory remains in effect. So, does this mean that we will have a record snow pack again this winter?
Not necessarily.
Not all winters and not all La Niñas are created equal. This year's La Niña is currently forecasted to be a weak to moderate La Niña, as opposed to last year's strong event. However, the potential is there for this winter to be similar to last winter. Additionally, there may be a wild card this year that could alter the effects of La Niña. Keep an eye on your local NWS forecasts and on the CPC's ENSO analysis for the latest.
---
NOAA's official winter outlook is now available, and it is detailed in images below. Click on this link for the narrative. Overall, it is important to note that La Niña winters often produce cooler and wetter than normal conditions in Wyoming...particularly in the northwest and in the mountains.
Here is the preliminary temperature forecast from the CPC for January - March: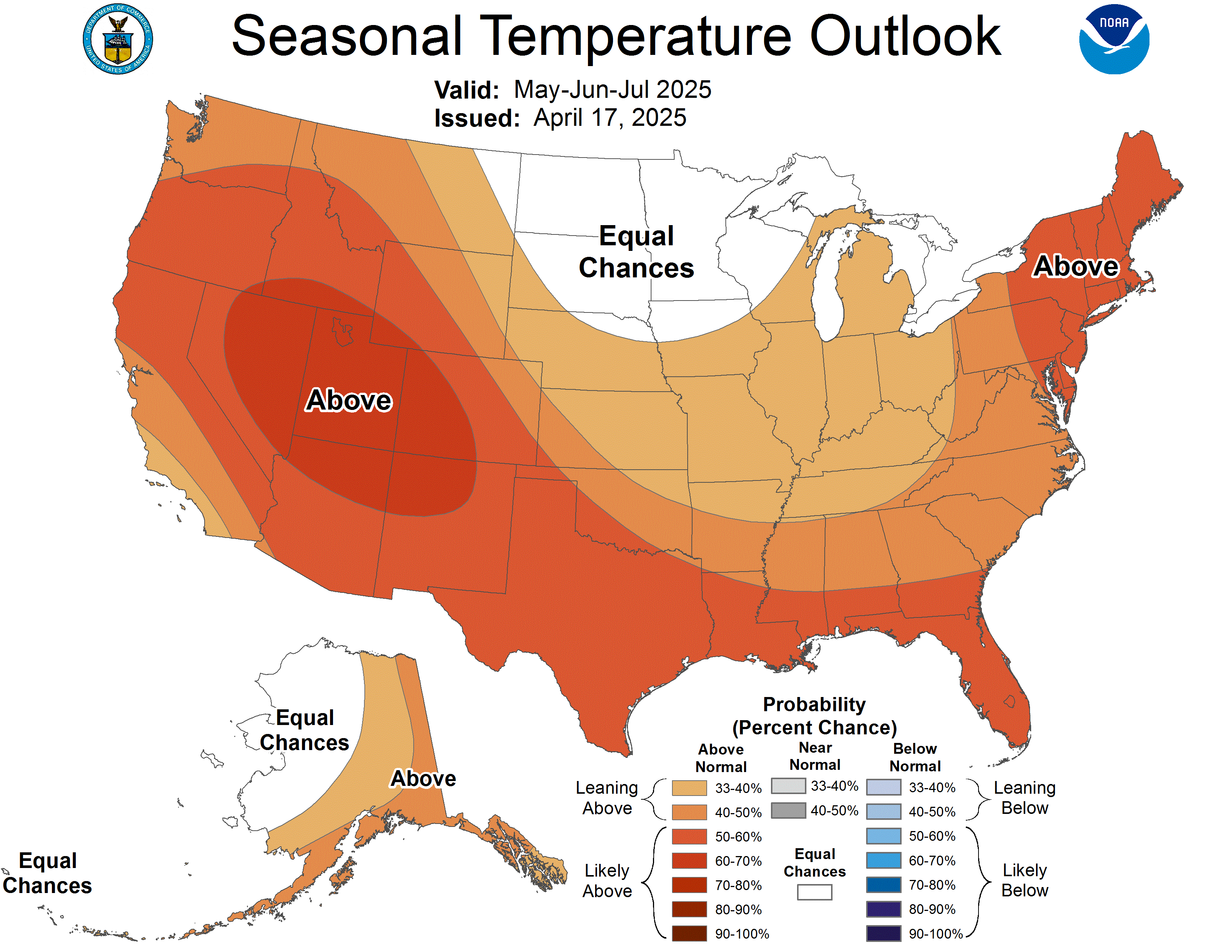 This graphic suggests that there are "equal chances" of above, below, or normal temperatures in Wyoming during the early winter months.
Here is the preliminary temperature forecast from the CPC for February - April: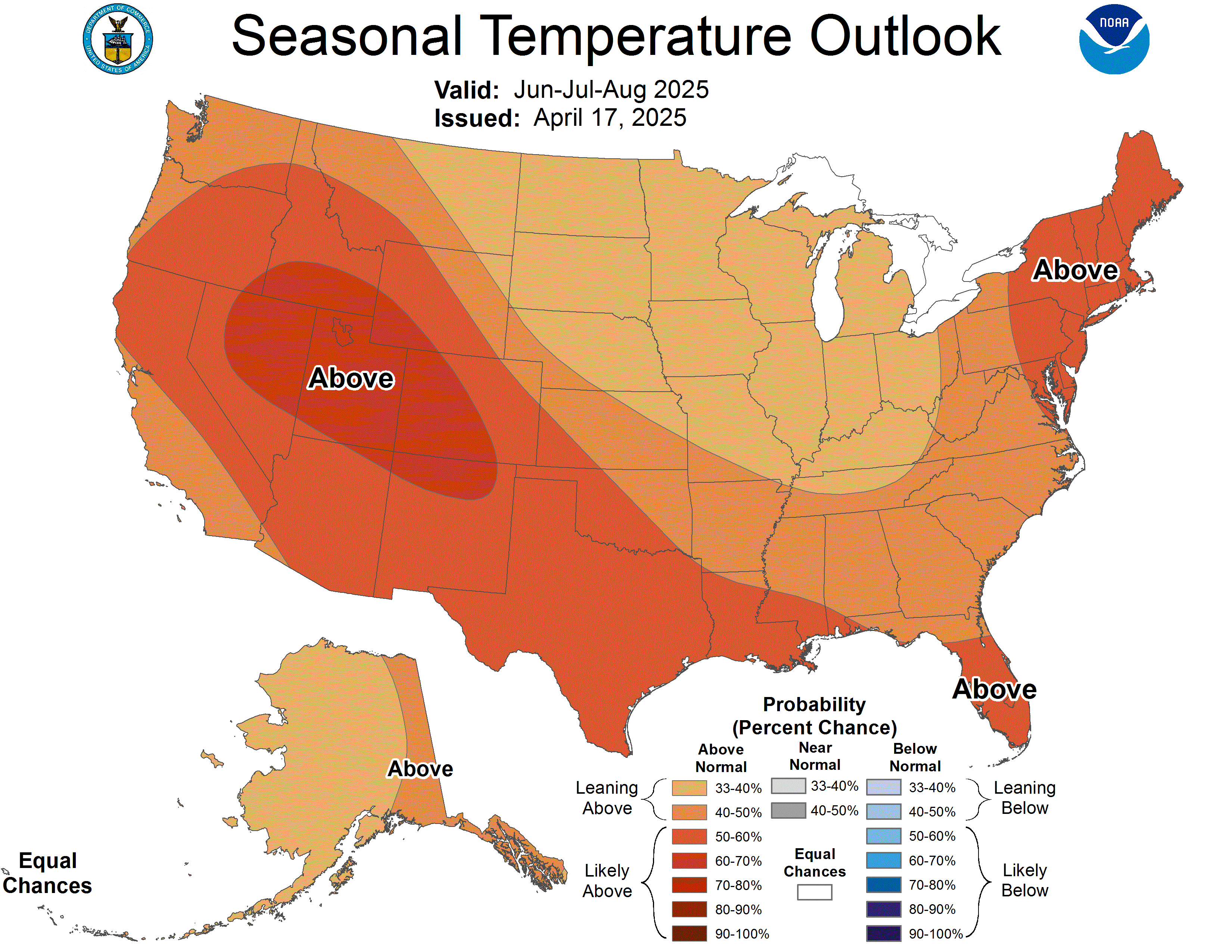 This graphic suggests that there are also equal chances of Above, Below, and Normal temperatures during the late winter months into the early spring.
In summary: According to the CPC, Temperatures will average out to about normal for much of the winter, with a better chance of colder than normal temperatures lasting into April across the far north.
Last winter, the strong La Niña delivered above normal temperatures early in the winter with record highs set in November at Lander, December and January were above normal, and temperatures transitioned to well below normal by February. Further north, Worland started off cooler than normal in November and this trend continued through February. Casper was slightly warmer than normal for much of the winter, but had a much cooler than normal month in February. To the south in Rock Springs, the winter started off warmer than normal, the temperatures then transitioned to below normal by February as well.
---
What about Snow?
The complex terrain throughout Wyoming produces complex results. The amount of snow that is expected to fall during a La Niña winter can vary greatly by location. The Climate Prediction Center creates outlooks for the entire area, so some of the finer scale results may be missed. However, there are some trends in expected precipitation amounts that emerge during La Niña winters.
Here is the preliminary precipitation forecast from the CPC for January - March:

Here is the preliminary precipitation forecast from the CPC for February - April: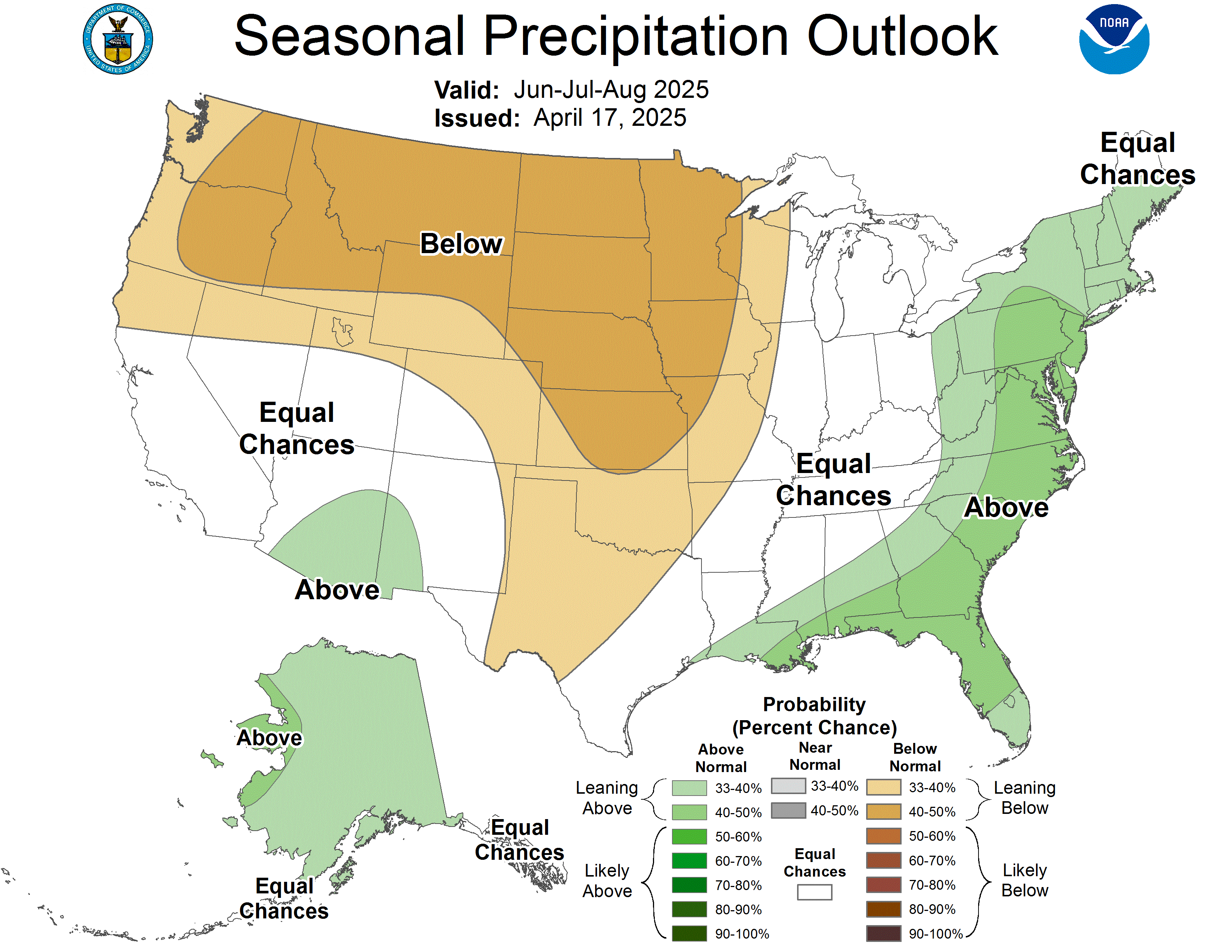 The above normal precipitation trend continues through late winter into early spring, though the signal is weaker
---
According to local research:
Looking at comparable years that experienced moderate La Nina conditions for the months of November through January; below average precipitation occurred in Central and Southern Wyoming at the onset of the cold season (10%-20% below normal in November to 20%-40% below normal by December). By January, precipitation was 10%-40% above average (especially in the northern and western mountains).
Here are a few key characteristics of a moderate La Niña winter in Wyoming:
The excessively dry conditions over much of Wyoming in a moderately cold ENSO phase (La Niña) in September and October switch to a mainly above to much above normal precipitation in November (based on the moderate La Niña winters of 1955, 1973, and 1988). Many areas have standard deviations of less than 30% (i.e. the signal is stronger and one can pretty much count on above normal precipitation during a La Nina year) especially in the northwest, which is associated with greater than 200% of average precipitation. Areas of above normal precipitation east of the continental divide have very high standard deviations (greater than 100% in some areas) and are much less predictable.
December precipitation is generally above normal, but the signal is not as strong as it is in November. The standard deviations (predictability) are generally higher east of the continental divide and are very low west of the divide.
January shows a more discernable signal with a wet signal in the west and in the mountains, and a dry signal east of the divide. The standard deviations are much lower across the area in both wet areas and dry areas, which provides higher confidence in January's signal than in November or December.
Let's take a look at this in pictures:
October Precipitation Averages during moderate La Niña Years. Blue = Above average precipitation and Red = Below average precipitation. Click on the image for a full resolution version
November Precipitation Averages during moderate La Niña Years. Blue = Above average precipitation and Brown = Below average precipitation. Click on the image for a full resolution version
December Precipitation Averages during moderate La Niña Years. Blue = Above average precipitation and Brown = Below average precipitation. Click on the image for a full resolution version
January Precipitation Averages during moderate La Niña Years. Blue = Above average precipitation and Brown = Below average precipitation. Click on the image for a full resolution version
February Precipitation Averages during strong La Niña Years. Blue = Above average precipitation and Red = Below average precipitation. Click on the image for a full resolution version
Return to News Archive