Summary
A Pacific storm will continue to impact the area today. The storm will continue moving northeast this afernoon and will be in western Nebraska by this evening. Consequently, snow will taper off from southwest to northeast during the day today, and will then become more spotty and showery this afternoon. The steady snow in the southern and central areas will begin to taper off around noon, while the snow across the north should continue through the afternoon hours.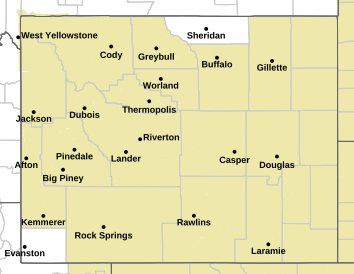 Click on the picture for more information on the current active products in your area.

Purple = Winter Weather Advisory
Pink = Winter Storm Warning
Peach = Special Weather Statement
Brown = High Wind Warning
Tan = Hazardous Weather Outlook
Teal = Winter Storm Watch
There will be a lot of instability and moisture with this system. This unstable atmosphere will cause local snowfall enhancements that are difficult to predict ahead of time. However, it appears as though the most unstable air is currently moving out of Fremont County and into Natrona County...a large area of instability will remain across Sweetwater County and the Upper Green River basin through much of the day; so showers are expected to continue across the south.
There could be large differences in snowfall amounts across short distances, in addition to sudden heavy bursts of snow that will reduce visibility and cause travel difficulties. The model depiction of where the snow will fall, when it will fall, and generally, how much can be expected is depicted in the animation in the bottom left panel.
The above image represents the model depiction of expected 6 hour snow accumulation. The loop begins at 5am Tuesday morning, and goes through early Wednesday morning. Click on the image to view a full resolution version of the animation.

Image Key:

Light Purple = Less than 1 inch of snow accumulation during the 6hr period

Gray = 1 to 2 inches

Yellow = 2 to 3 inches

Blue = 3 to 6 inches

Red = 6 + inches (or at least 1 inch of snow per hour!)

The time stamp is in the bottom right hand corner of the animation. For help with how to read "Z" time, click on this link.

The image above is a satellite analysis from NOAA's Satellite and Information Service. Click on the link to read the forecaster's discussion of what he sees in the satellite imagery, and what it means for Wyoming. (The discussion is fairly technical, the NOAA Glossary may be of some use if you do not understand some of the terms).
The winds will shift to the west and become gusty this afternoon across the south. This could cause visibility reductions in blowing and drifting snow this afternoon, especially along higher elevations where it is colder. Travellers are encoraged to check the road conditions before attempting travel. Strong winds will then spread north across the mountains and into Natrona County through Wednesday morning. Much of the state will have enough wind to cause areas of blowing and drifting snow by Wednesday afternoon, however, winds are not expected to be strong enough to warrant high wind warnings.
The animation above shows the evolution of the expected wind speeds and direction from Tuesday Morning through Wednesday afternoon.
Gray shades = Wind speeds below 20 mph

Light Blue = 20 - 29 mph
Dark Blue = 30 - 35 mph
Purple = 35 - 40 mph
Green = 40 - 50 mph
Orange = 50 - 60 mph
Red = 60+ mph
For help with reading wind barbs, try this link.
Monitoring / Reporting Snowfall
We have been receiving a lot of reports from around the state this morning. The latest snowfall totals can be found here.
NWS Riverton will update our Winter Weather Products as the storm progresses to include up to date information on areas of concern, expected snowfall, and general current snowfall (where available). NWS Riverton's radar does struggle somewhat with observing snowfall across the western mountains and over southern Wyoming, but can still be monitored for activity. Additionally, NWS Pocatello's radar has a bit of coverage over western Wyoming, and can also be observed. As mentioned in the summary, motorists are strongly encouraged to check road conditions with the Wyoming Department of Transportarion's (WyDoT) before traveling. This can be done in multiple ways. If using a Wyoming-based telephone, dialing 5-1-1 will connect you to WyDoT's phone service which states closures and advisories. Additionally, visit WyDoT's webpage (www.wyoroad.info) and view maps which are color-coded based on current road conditions.
NWS Riverton Radar
NWS Pocatello Radar
Wyoming Department
of Transportation
We want to hear from you! Please, send us your snow reports from throughout the storm so we may monitor the strength of the storm. You can report snowfall to us via our email address (cr.wxriw@noaa.gov), our phone number (800-211-1448), through eSpotter, and via our Facebook page. Please feel free to share your snow reports in the most convenient way for you!
| | |
| --- | --- |
| | |
| eSpotter Interface | Find Us on Facebook! |
Safety
Some reminders about winter weather safety:
Stay indoors if possible.
If you must go outside, dress appropriately:

Multiple layers of loose fitting clothing to promote insulation.
Heavy woven materials are ideal.
Wear a hat – 50% of your body heat escapes through you head.
Wear a scarf or something to cover your mouth and nose.
Cover as much of your skin as possible.
Mittens are better than gloves.

Remember, rarely is a trip a "MUST" trip.

Plan accordingly to avoid hazardous winter travel.
If travelling is absolutely unavoidable, please prepare a winter safety kit for your car. Details regarding what should be included in this kit can be found in this document.

Never leave your vehicle when stranded. It is your only sure source of protection from the elements.
Additional information about travelling in the winter across Wyoming can be found on our Winter Preparedness website.
Return to News Archive