If you think it has been dry across much of the Cowboy state this year - you're right! In addition to the record spring warmth, there have been some exceptionally dry periods too. The Climate Prediction Center updated their seasonal drought outlook last week and has included southern portions of Wyoming in the "Drought Perisistent or Expected to Intensify" category.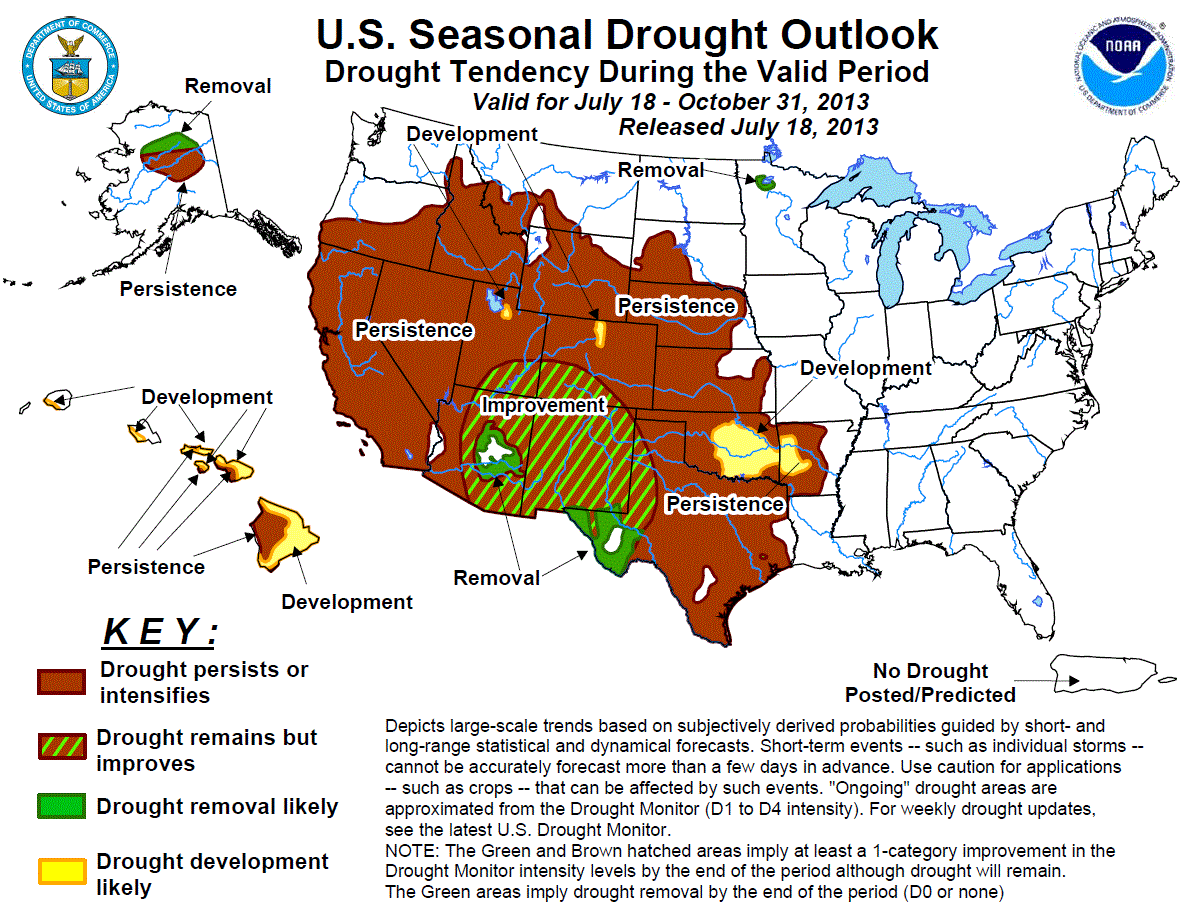 CPC's Seasonal Drought Outlook has placed portions of southern Wyoming in "Drought to persist or intensify"
In fact, the US Drought Monitor has now classified the drought across portions of southern Sweetwater county as "severe" in their latest assessment.
Most of the state is considered to be "Abnormally Dry" with portions of the south placed in D1 or D2 drought.
Compilation of local precipitation data during the water year (October 2011 through May 2012) has reenforced the CPC's Outlook and added some higher resolution data to the mix:
This graphic shows the amount of precipitation from October of 2011 through May of this year as it relates to what we normally receive. The blue shades across the Bighorn Basin, the Absarokas, Yellowstone, the Tetons, and the Wind River Mountains show above normal precipitation through the water year in those areas. The tan to orange shades show the areas that have received less than normal precipitation during the water year. (click on the image to see a larger resolution version)
So, why did the drought monitor wait until June to upgrade portions of Wyoming to D2 drought levels? Take a look at the May Precipitation Map as it relates to normal.
So, just as you thought...it was very dry last month - especially across portions of southern and central wyoming (red and orange shades). A few stormy days and some beneficial cold fronts brought above normal precipitation to the higher elevations of the north and west last month, but the lower elevations of the west and areas east of the Divide were left out, hence the upgraded drought status. (Click on the image to see a larger version)
---
Impacts - Be Proactive

Drought, both long term and short term, elevate fire danger. As always, please be careful with fire! You may very well be under restriction, call your local fire department for more information on burn permiting and bans.
Portions of southern Wyoming are in "exreme" fire danger. Most of the state is at least under "high" fire danger.
Be prepared for water supply shortages and restrictions as well:
The latest water supply outlook mirrors the percent of normal precipitation maps above.
There could also be damage to crops and pastures in the drought areas; as well as abnormally low streams, reservoirs, and wells. Many areas will ask for voluntary water restrictions or perhaps begin to impose water restrictions upon the more severely impacted areas.
Do your part:
1. Be careful with fire!
- Call your local fire department if you want to burn anything outdoors, and then call us (1-800-211-1448 - we are here 24/7) to see if the weather is conducive to outdoor burning. You do not want to burn on an windy day, an exceptionally dry day, or on a day when we expect thunderstorms.
- Put out any campfires completely
- Do not set off fireworks
- Use caution when sharpening tools, welding, mowing the lawn, or doing anything outdoors that may create sparks. Always have a water source nearby.
- Visit firewise.org for more tips
2. Conserve water now
- Run the clothes washer and dish washer only when they are full - this tip alone can save up to 1,000 gallons per month!
- Water the landscaping in the early morning hours or late at night when less water will be lost to evaporation
- Turning off the water while you brush your teeth can save 25 gallons per month
- Use a rain barrel to water your plants
- Aerate your lawn once per year so that water can get down to the roots instead of run off the surface
- For more water conservation tips, visit this site: wateruseitwisely.com
The weather will continue to be dry for the next week, with no significant rain expected.
Keep an eye on our homepage for upcoming drought information statements, red flag warnings, or special weather statements on the current drought situation or updates on fire weather conditions.
Return to News Archive