---
Summary | Forecast | Monitoring & Reporting | Safety
It has been an active week for thunderstorms with multiple funnel clouds, large hail, strong winds in excess of 60 mph recorded, and flash flooding at Medicine Lodge State Archaeological Site. Two burn scars were threatened by heavy downpours that mercifully relented before the rain caused much of an issue: the Gilead Fire Burn Scar (NW of Buffalo) and the Sheepherder Hill Fire Burn Scar (Casper Mountain). The storms this week are only the beginning for the season and more are expected today. NOW is the time to figure out if you are in danger if the right storm hits one of these burn scars - Why are they so dangerous? Because it only takes less than one half inch of rain in less than an hour to cause flash flooding and debris flows in burn scars! The storms over the last few days have easily produced that amount, some have dropped an inch and a half of rain in less than 20 minutes.


| | |
| --- | --- |
| | |
| Several funnel clouds dropped out of a storm that moved through Washakie, Hot Springs, and Bighorn Counties on Friday Afternoon. This particular funnel cloud was captured on film by a Facebook fan, Rosie Denny, who took the above photo one mile north of Hyattville. | A lot of hail dropped out of a storm that moved through Washakie, Hot Springs, and Bighorn Counties on Friday afternoon. This picture was taken along the Hot Springs / Washakie county line by Beth Harrison. |
The ingredients needed for thunderstorms are all present for Saturday; however, the storms are expected to be less severe, yet they will be more evenly distributed - not just concentrated in the far northeastern portion of our forecast area. They will still be able to produce heavy downpours, frequent lightning, hail, and strong gusty winds (especially around Casper where downburst winds are more likely in the afternoon).


Storm Prediction Center Thunderstorm Forecast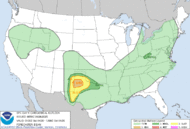 The Storm Prediction Center is anticipating the stronger storms to move east into the plains, however, the region still remains in the "general" thunderstorm area (shaded in green).
Let's take a look at what the models are predicting for Saturday.
The ingredients for strong thunderstorms include: Instability, Moisture, Lift, and Spin:


Click Image To Enlarge

Instability: The entire region is weakly unstable (blue shades). On Friday, there was a definite concentration of much more unstable air in Johnson County.

Click Image To Enlarge

The above map shows expected dew points at the surface during peak heating of the day. The higher dewpoints and therefore the higher chances of stronger storms will be across the north.

Click Image To Enlarge

A trough moving into the region will provide the needed lift (blue and purple shades) for thunderstorm formation, as will the mountains in our forecast area. Generally, troughs have a vast region of lift ahead of them and a region of sinking motion once the base of the trough passes by.

Click Image To Enlarge

The pink and moreso, the purple shades show regions where there will be enough rotation in the atmosphere to sustain a thunderstorm updraft long enough for the storm to become more organized, and therefore, stronger in general.
So today will be an active thunderstorm day, the storms do not have as much instability to work with so the chances of them being more severe is less than it was on Friday. However, if heavy rain from storms occurs in the wrong areas (rocky canyons, or over burn scars, or in towns like Cody that lack storm drains) then there could still be high impact from these storms. Please stay alert if you live in a high risk area, and please report any storm damage to the NWS by calling 800 - 211 - 1448 or by posting pictures and information on our Facebook page.

Emergency Kit | Thunderstorm & Lightning Safety
---
Return to News Archive