Recent Snowfall Improves Short Term Drought Conditions
Updated on Thursday April 25, 2013
The next planned update will be in May. However, it may be updated earlier as conditions change.
Synopsis
Drought conditions as of April 25. There are no exceptional /D4/ drought conditions in South Dakota or Wyoming due to the recent snowfall. However, extreme /D3/ drought conditions are located across portions of northeastern Wyoming and western South Dakota. In northern Wyoming extreme drought conditions cover most of Weston, southern Campbell, and extreme southwestern Crook counties. In western South Dakota extreme drought conditions exist in southwestern Fall River, southeastern Harding, northeastern Butte, the southern two-thirds of Perkins, most of Ziebach, most of Haakon, eastern Jackson, northwestern Todd, Mellette, and southern Tripp counties. Severe /D2/ drought conditions cover the rest of Campbell, the northern and eastern portions of Crook, Meade, eastern Pennington, northeastern Fall River, Shannon, southeastern Todd, northern Tripp, western and northern Harding, western and southern Butte, and extreme northern Perkins counties. Moderate /D1/ drought covers the Black Hills, mainly areas above 4500 ft.

Summary of Impacts
Soil moisture has greatly improved with the recent snowfall. However, little runoff has been observed with the melting snow.
Most dugouts and stock ponds across northeastern Wyoming and western South Dakota remain dry.
Spring wheat planting has been delayed due to the recent cold temperatures and snow.
Climate Summary
For March, temperatures and precipitation were below average across northeastern Wyoming and western South Dakota. The average temperature in March is in the upper 20s to lower 30s. Average March precipitation ranges from around an inch on the plains to two inches in the northern Black Hills.

So far in April temperatures have been much below average and precipitation has been much above average. Average April high temperatures are in the middle 50s to around 60 degrees, with low temperatures in the lower to middle 30s. Average precipitation is around two inches on the plains with 3 to 4 inches in the northern Black Hills.
Precipitation and Temperature Outlook
The outlook for the rest of April below indicates equal changes for above, below, or average temperatures with a greater chance of above average precipitation. The forecast for the rest of April is for warmer temperatures with drier conditions.
Climate Prediction Center Temperature and Precipitation Outlooks
Climate Prediction Center U.S. Seasonal Drought Outlook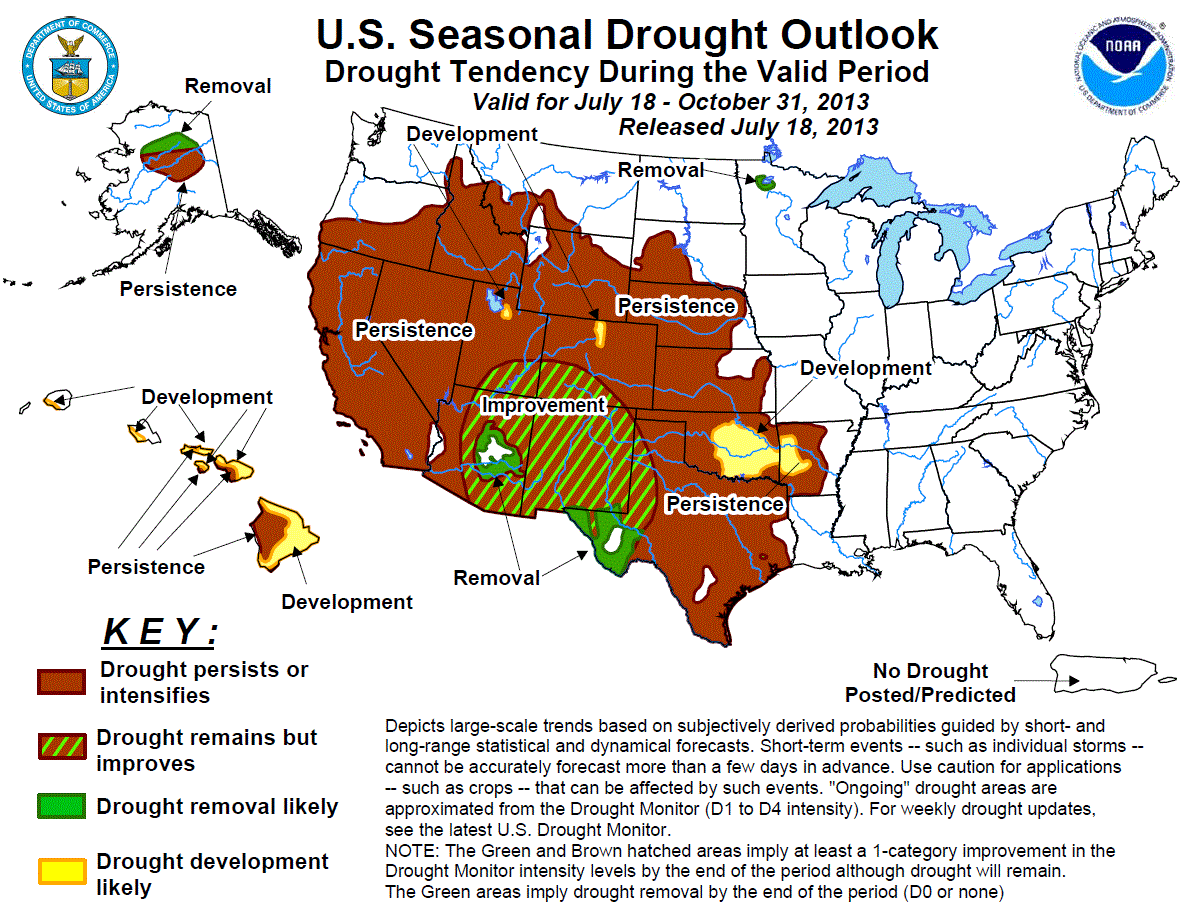 Hydrologic Summary and Outlook
The table below shows reservoir percent of average capacity and feet from full on April 4 according to the Bureau of Reclamation (USBR).
| | | |
| --- | --- | --- |
| Reservoir | Percent of Normal | Feet from Full |
| Angostura | 69% | 9.2 ft |
| Belle Fourche | 72% | 6.6 ft |
| Deerfield | 99% | 0.5 ft |
| Keyhole | 80% | 4.4 ft |
| Pactola | 93% | 4.9 ft |
| Shadehill | 67% | 8.9 ft |
Questions or Comments
If you have any questions or comments about this drought information please contact,

Melissa Smith
Drought Focal Point
National Weather Service
300 East Signal Drive
Rapid City South Dakota 57701
Telephone 605-341-9271
E-mail melissa.smith@noaa.gov
Acknowledgements
The drought monitor is a multi-agency effort involving NOAA's National Weather Service (NWS) and National Climatic Data Center, the United States Department of Agriculture (USDA), state and regional center climatologists, and the National Drought Mitigation Center. Information for this statement has been gathered from NWS and Federal Aviation Administration observation sites, state cooperative extension services, USDA, USBR, and USGS.