Drought Conditions Continue Across Western South Dakota and Northeastern Wyoming
Updated on Thursday, February 22, 2007
Next Scheduled Update by Friday, March 23, 2007
Summary
Dry weather persisted over the plains of western South Dakota and northeastern Wyoming from January 15 through 31. Most locations received less than 0.10 inches of precipitation. Precipitation was near normal in the Black Hills and Bear Lodge Mountains where 0.30 to 0.60 inches of precipitation was received. Below normal temperatures and above normal precipitation occurred across the area during the first half of February. Precipitation averaged 0.50 to 0.70 inches on the plains of western South Dakota and northeastern Wyoming. In the northern Black Hills and Bear Lodge mountains precipitation averaged 0.75 to 1.00 inches.
Local Area Affected

Drought conditions as of February 22, extreme (D3) drought conditions stretched across most of northeastern Wyoming into the southwestern corner of South Dakota and the extreme northwestern corner of South Dakota. The majority of western South Dakota was classified as being in severe (D2) drought conditions due to long term moisture deficits and low reservoir levels. The exception was in the northern Black Hills where conditions improved to moderate (D1) drought classification. Specific smaller areas (below the resolution of the national drought monitor product) have been wetter than average.
Climate Summary
Temperatures in January were 2 to 4 degrees above normal across northeastern Wyoming and western South Dakota. Precipitation during December was well below normal on the plains of western South Dakota and northeastern Wyoming. Precipitation averaged 30 to 50 percent of normal...with several locations receiving less than 10 percent of normal precipitation. In the Black Hills and Bear Lodge Mountains precipitations was near to slightly above normal.
River and Reservoir Conditions
According to the United States Geological Survey (USGS), streamflows were near normal across the area.

Reservoirs around the region remain well below capacity. The table below shows reservoir percent of normal capacity and change in elevation over the past 30 days as calculated by the United States Bureau of Reclamation (USBR).
| | | |
| --- | --- | --- |
| Reservoir | Percent of Normal | Elevation Change |
| Angostura | 41% | +0.7 ft |
| Belle Fourche | 39% | +2.0 ft |
| Deerfield | 75% | -0.2 ft |
| Keyhole | 29% | +0.1 ft |
| Pactola | 57% | -0.1 ft |
| Shadehill | 60% | -0.5 ft |
Temperature and Precipiation Outlook
During the past month El Nino conditions have weaken rapidly in the Equatorial Pacific Ocean. This trend is expected to continue with neutral El Nino - Southern Oscillation (ENSO) conditions during the March through May timeframe. Therefore warmer than normal temperatures and near or slightly above normal precipitation can be expected.
Climate Prediction Center Temperature and Precipitation Outlooks for March 2007
Climate Prediction Center U.S. Seasonal Drought Outlook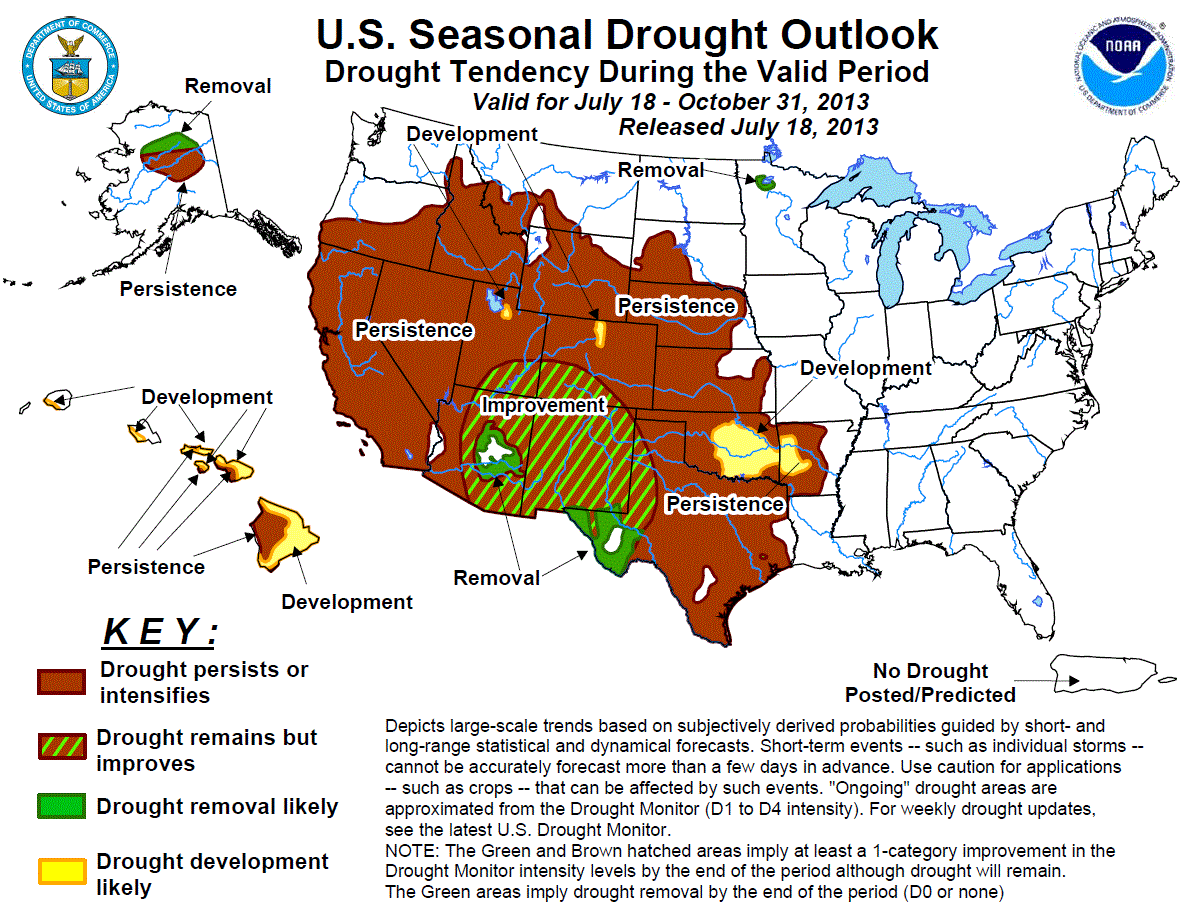 Questions or Comments
If you have any questions or comments about this drought information please contact,

Melissa Smith or Lee Czepyha
Drought Focal Points
National Weather Service
300 East Signal Drive
Rapid City South Dakota 57701
Telephone 605-341-9271
E-mail melissa.smith@noaa.gov or lee.czepyha@noaa.gov
Acknowledgements
The drought monitor is a multi-agency effort involving NOAA's National Weather Service (NWS) and National Climatic Data Center, the United States Department of Agriculture (USDA), state and regional center climatologists, and the National Drought Mitigation Center. Information for this statement has been gathered from NWS and Federal Aviation Administration observation sites, state cooperative extension services, USDA, USBR, and USGS.